Baked Fettuccine Alfredo with Butternut Squash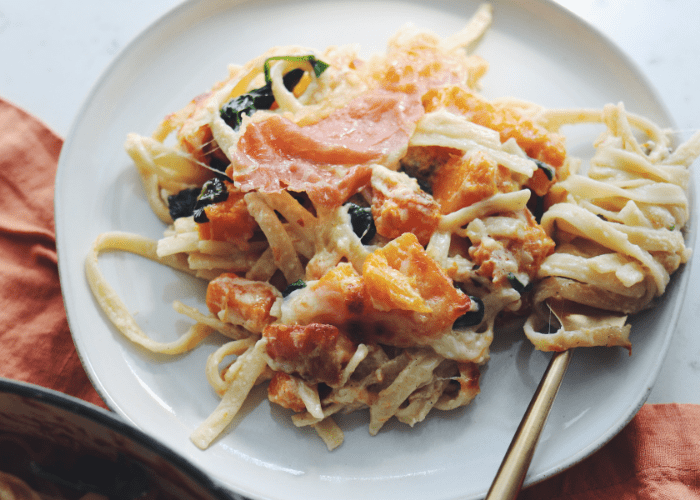 10

50

60

6

Print Recipe
Ingredients
For the butternut squash
4 cups butternut squash, cubed
2 tablespoon olive oil
1/4 teaspoon salt
1/8 teaspoon cinnamon
red pepper flakes
1 tablespoon honey
For the pasta
1 lb fettucccine
5 slices of prosciutto
3 tablespoons butter
1/2 cup flour
3 cups milk
2 cups parmigiano, packed
1 cup italian cheese blend
4 cups spinach
Preparation
For the butternut squash
Preheat oven to 400 degrees.
Toss butternut squash cubes with olive oil, salt, cinnamon and red pepper flakes.
Arrange evenly apart on a baking sheet and bake for 20-25 minutes, stirring halfway.
Once tender, toss with honey and set aside.
For the pasta
Cook the pasta according to the directions on the box and set aside.
Meanwhile, heat a heavy bottomed pan over medium and add prosciutto.
Cook for a few minutes on each side until crispy then set aside. Leave the remaining grease in the pan.
Add butter and garlic and cook for 2 minutes.
Whisk in flour and cook for another two minutes or until the flour taste cooks out.
Once the roux is developed, whisk in half a cup of Florida milk at a time.
After all the milk has been added, bring to a simmer and add the cheese, half a cup at a time.
Taste and season with more salt if necessary.
Stir in the spinach, the cooked butternut squash, and then the pasta.
Top with shredded italian cheese mix then put in the oven at 400 for 20 minutes.
Finish by turning on the broiler for 4 minutes or until the cheese gets slightly blistered.
Remove from the oven and top with crispy prosciutto and serve.