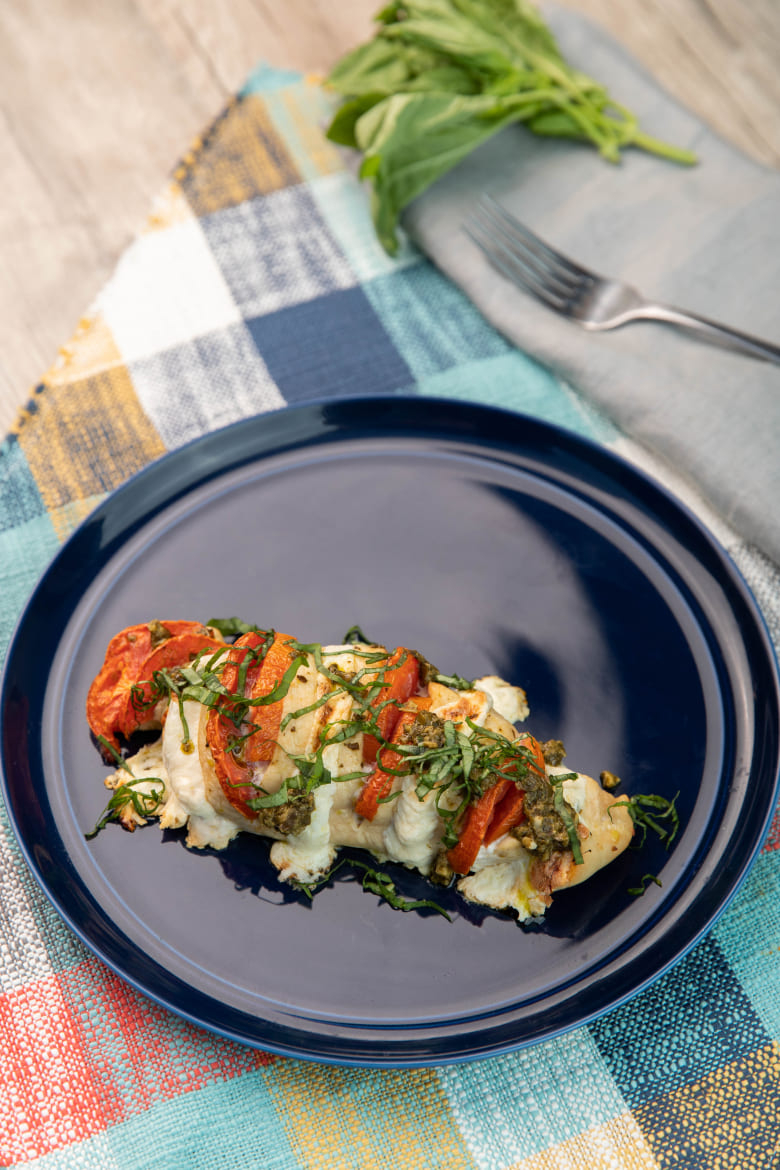 30

30

60

4

Print Recipe
Ingredients
4 boneless skinless chicken breasts
1 cup Cilantro Chimichurri (Recipe Follows)
8 – 10 slices fresh Mozzarella cheese
8 – 10 slices of plum Tomatoes
2 Tbsp. Olive oil
Cilantro Chimichurri:
1 large bunch of Cilantro, finely chopped
5 Garlic cloves, peeled and finely minced
½ cup Olive Oil
¼ cup Red Wine Vinegar
1 Tbsp. of Dried Oregano
Salt and Pepper to taste
Preparation
For the chimichurri, add all the ingredients in a bowl and combine.

Place the chicken breasts on a cutting board. Using a sharp knife, cut slits across the chicken breast about three-quarters of the way, being careful not to cut all the way through. About 4 – 5 slits per chicken breast.

In a shallow bowl, marinate the chicken with 1 cup of chimichurri and let sit at room temperature for at least 30 minutes. Discard used Chimichurri.

Preheat oven to 400° F.

Stuff each slit with a slice of mozzarella cheese, and a tomato slice alternating between the Mozzarella and the tomato. Repeat till each slit is stuffed.

Place chicken on baking tray that has been sprayed with non-stick cooking spray.

Drizzle chicken with olive oil, salt, and black pepper.

Bake for 20-30 minutes or until chicken is fully cooked in the center (165°F).

Drizzle remaining Chimichurri sauce before serving.