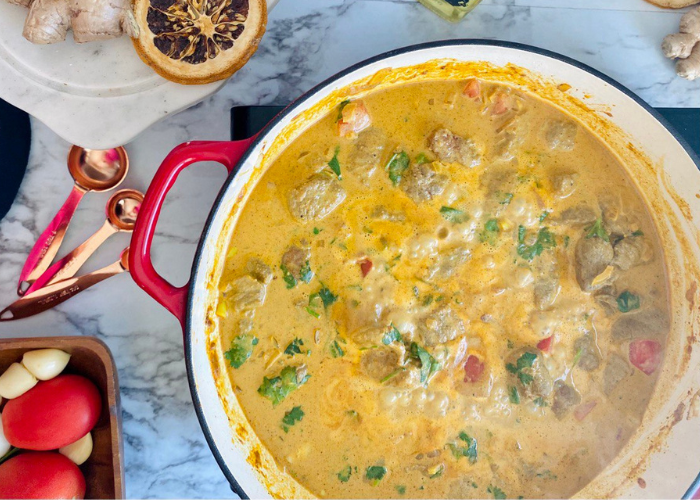 30

90

120

4

Print Recipe
Ingredients
1 lb beef steak cut into 1 1/2 inch pieces of ground beef
1 tablespoon vegetable oil
1 onion finely chopped
5-6 cloves of garlic minced
1 tablespoon fresh grated ginger
2 tablespoons tomato paste
1/2 cups milk
3/4 cups coconut milk or heavy whipping cream
3/4 cups water
Spices:
1 orange peel
1 teaspoon salt
1 tablespoon Garam masala
1/2 turmeric powder
1 teaspoon paprika
1/2 teaspoon cardamom powder
Finishing:
2 tablespoon cilantro chopped
1 medium tomato chopped
Preparation
Heat vegetables in a heavy bottom pot over high heat. Add beef and cook, turning often, for 4-5 minutes or until lightly browned.
Remove the beef from the pan. Set aside.
Add more oil to a heavy bottom pot, chopped onions, ginger, garlic, and saute? for about 3-4 mins.
Add tomato paste with 1/4 cup water to deglaze the pot and blend tomatoes.
Add spices and stir.
Add heavy cream, milk, remaining water, and beef cubes. Stir well to marry ingredients together.
Cover and simmer for 1 -1 1/2 hours or until the beef is tender and the sauce is reduced.
Stir sauce every 20-30 mins. Add chopped cilantro and tomato to finish before serving.