Easy Cheesy Quesadillas with Creamy Mexican Dipping Sauce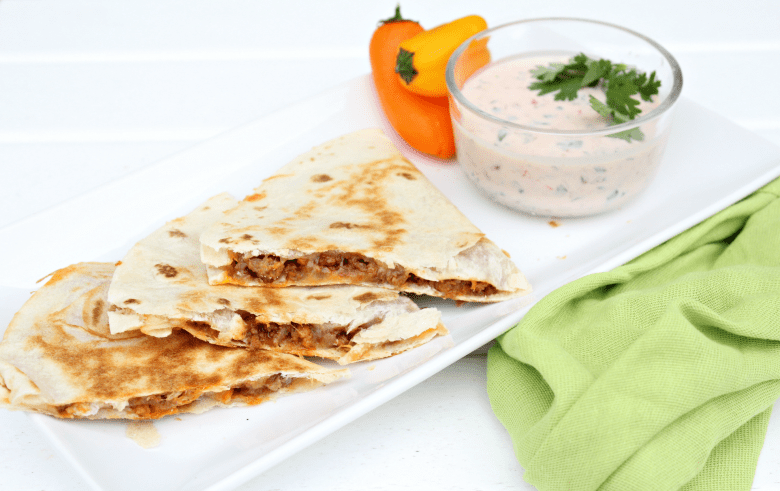 10

5

15

6
Combine your favorite Mexican flavors with cheesy goodness in these easy-to-make Cheesy Quesadillas with Creamy Mexican Dip written and created by
Tracy Shaw of Food Wine Sunshine
.

Print Recipe
Ingredients
2 large flour tortillas
1 cup shredded cheese - I used the Mexican blend
1 cup your favorite cooked filling - I used ground beef you can also use shredded chicken, ground turkey or even just vegetables
Homemade Creamy Mexican Dip
1 cup Non fat Greek Yogurt
½ cup your favorite salsa - I used Mango Habanero
1/3 cup cilantro - chopped
½ cup sweet onion - diced
½ tsp cumin
½ tsp salt
1 tsp red pepper flakes
Preparation
Homemade Creamy Mexican Dip
In a small mixing bowl, stir all the ingredients together, cover and refrigerate until ready to use
Best Cheesy Quesadillas
Smear a small amount of butter or oil in a large frying pan
Warm pan
Add tortilla to the pan and top the entire quesadilla with ½ cup cheese
When the cheese melts, add your quesadilla filling to half of the tortilla
When the tortilla is golden brown, fold over the half of the tortilla with just the cheese over the half with the filling
Slide your cheesy quesadilla onto a cutting board and cut into three wedges
Repeat steps with the additional tortilla(s)
Serve with the Creamy Mexican Dip
Enjoy!
Notes
You can make the creamy Mexican dip a day or two in advance. It will enhance the flavors! The creamy Mexican dip is also Weight Watchers friendly! The only thing that has any points is the salsa, and that is one point for 2 tablespoons. We served our quesadillas with chips and fresh vegetables, which we also dipped in the homemade Mexican dip.
This recipe will make 6 "wedges", each person in my family ate 2 wedges, adjust the recipe as needed for your family. These cheesy quesadillas also warm up nicely if you end up with any leftovers.