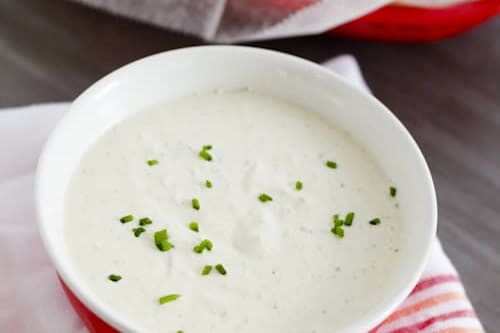 15

8

23

2

Print Recipe
Ingredients
1 cup mayonnaise

1 cup sour cream

3 tablespoons unsalted butter

3 tablespoons yellow onion, finely chopped

3 tablespoons jalapeño pepper, seeded and finely chopped

3 tablespoons poblano pepper, finely chopped

3 tablespoons garlic, finely chopped

1 teaspoon green mild jalapeño hot sauce

1 teaspoon hot sauce

3/4 teaspoon salt

1/2 teaspoon coarse ground black pepper

1/2 teaspoon lime zest
Preparation
Place mayonnaise and sour cream in the bowl of food processor. Set aside.
In a medium pan, melt butter over medium heat. Add onion, jalapeño, and poblano pepper. Cook for 3 minutes, stirring occasionally. Add garlic, reduce heat to medium low and cook, stirring occasionally, for 5 minutes.
Add the cooked onion- pepper mixture to bowl of food processor. Process until a smooth and creamy mixture forms.
Add hot sauces, salt, pepper, and lime zest and process until mixed in. Place in a serving bowl and cover with plastic wrap. Let chill for 1 hour or overnight before serving.