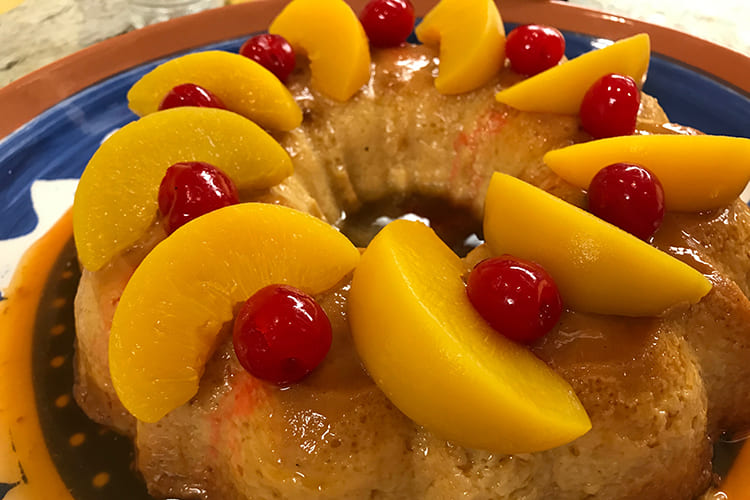 Print Recipe
Ingredients
Preparation
Ingredients:
1/2 Cup of Sugar (For Caramelo)
5 Whole eggs
2 (14 ounce) can sweetened condensed milk
2 (12 fluid ounce) can evaporated milk
1 tablespoon vanilla extract
3 Tablespoons Dark Rum
1/2 Cup of Sugar
2 Tbsp Corn Starch (Dissolved in 1 Tbsp Water)
Cherry's, Peaches, and or strawberries for decor.
Directions:
Preheat oven to 350 degrees F (175 degrees C).
In a medium saucepan over medium-low heat, melt sugar until liquefied and golden in color. Carefully pour hot syrup into a 9 inch round glass baking dish, turning the dish to evenly coat the bottom and sides. Set aside.
In a large bowl, with an electric mixer, mix eggs, condensed milk, evaporated milk and vanilla, rum, and sugar until smooth. Add the Dissolved Corn starch. Pour egg mixture into baking dish.
Place a double boiler and place flan pot inside double boiler. Bake in preheated oven 45 minutes. Let cool completely.
To serve, carefully invert on serving plate with edges when completely cool. Decorate.