Creamy Sweet Corn Grits Casserole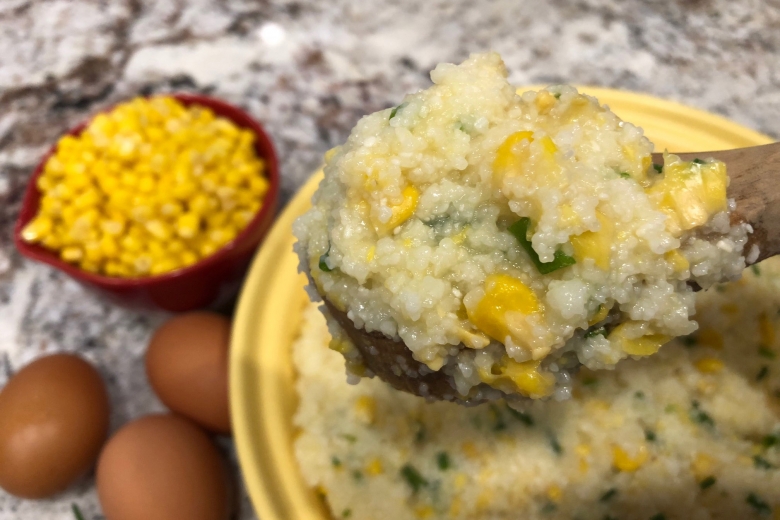 15

40

55

8

Print Recipe
Ingredients
3 cups whole milk, divided
1 (14.75-ounce) can cream style sweet corn
1 1/4 cups quick (not instant) yellow grits
2 large eggs at room temperature, beaten (see note)
1 cup fresh corn kernels (see note)
1 1/4 cups shredded Italian cheese blend (mozzarella, provolone, Parmesan, Asiago, Fontina and romano cheeses), divided
2 green onions, chopped
1 tablespoon freshly chopped chives
1 teaspoon nutmeg
Coarse salt and freshly ground pepper to taste
Preparation
Heat oven to 375F. Lightly coat a shallow two-quart baking dish with butter or nonstick spray. (You can also use ramekins for individual servings.)
Put 2 cups of milk in a large saucepan. Add the cream-style corn. Swirl the remaining 1 cup of milk in the can of cream-style corn and pour into saucepan. Stir and bring the mixture to a gentle boil.
Whisk in the grits. Reduce the heat and simmer, stirring, until thick, about 8 minutes. Remove the pan from the heat. Briskly whisk in eggs, being careful not to let them scramble (see recipe note). Stir in the corn kernels, 1 cup of the cheese, green onions, chives, nutmeg, salt, and pepper. Spoon into baking dish.
Bake, uncovered, 15 minutes. Sprinkle with remaining cheese and bake 15 minutes more. Let stand 10 minutes before serving.
Recipe notes:
Grill the corn kernels in a grill pan before adding, if desired.
Use 1 extra-large egg, if you like. I find that 2 large eggs give the casserole more body.
A little of the warm milk liquid can be used to temper the eggs before adding to the rest of the ingredients. It's important to whisk the eggs in briskly so that they don't scramble.
You can bake this casserole a day ahead and reheat gently in the oven.