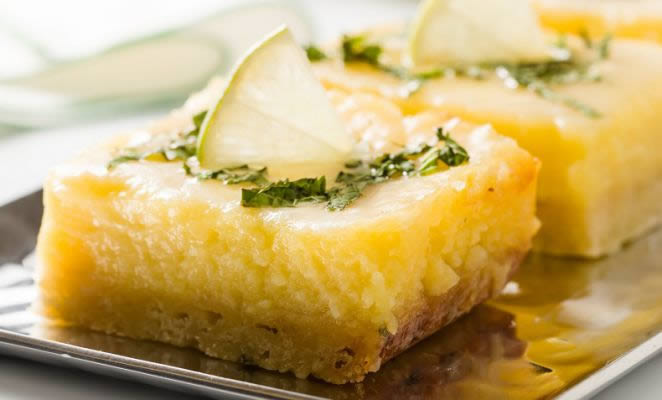 10

85

95

12

Print Recipe
Ingredients
For the Mojito Curd:
3/4 cup (1 1/2 sticks) unsalted butter, room temperature
1 1/2 cups sugar
1/4 teaspoon salt
4 eggs
8 egg yolks
1/2 cup lime juice
1/4 cup white rum
3/4 ounce fresh mint, stems and leaves
For the Mojito Bar Cookies:
1/2 cup unsalted butter, cold
1/4 cup sugar
1 cup all-purpose flour
8 mint leaves
Mojito curd from above
Preparation
For the Mojito Curd:
In medium mixing bowl, beat together butter, sugar, and salt until smooth.
Mix in eggs and egg yolks one at a time until just combined.
Mix in lime juice and rum. The mixture may separate a little at this point, but don't worry: it will come together later.
Transfer mixture to medium pot on medium-low heat. Stir regularly until mixture reaches 175°F on candy thermometer, about 20 minutes. It should be bubbling periodically, but not boiling rapidly.
Remove from heat and add mint. Let mint steep for 15 minutes, stirring periodically.
Strain out mint and any clumps with fine sieve. Press plastic wrap directly onto surface of curd and poke a few holes in it to let the steam release. Refrigerate until ready to use.
For the Mojito Bar Cookies:
Preheat oven to 350°F.
Place all ingredients except curd in food processor and pulse together to form fine crumbs.
Press into bottom of a buttered 8x8-inch pan and bake for 25 minutes or until light golden brown.
Top prebaked bar base with curd and return to 350°F oven for 25 minutes or until the edges of the bars are set but the inside is still jiggly.
Cool to room temperature and then chill in refrigerator for at least four hours before slicing and serving. Optional: garnish with additional mint leaves and lime.