Creamy Cauldron of Carrots, Smokey Sausage, and Sweet Pea Soup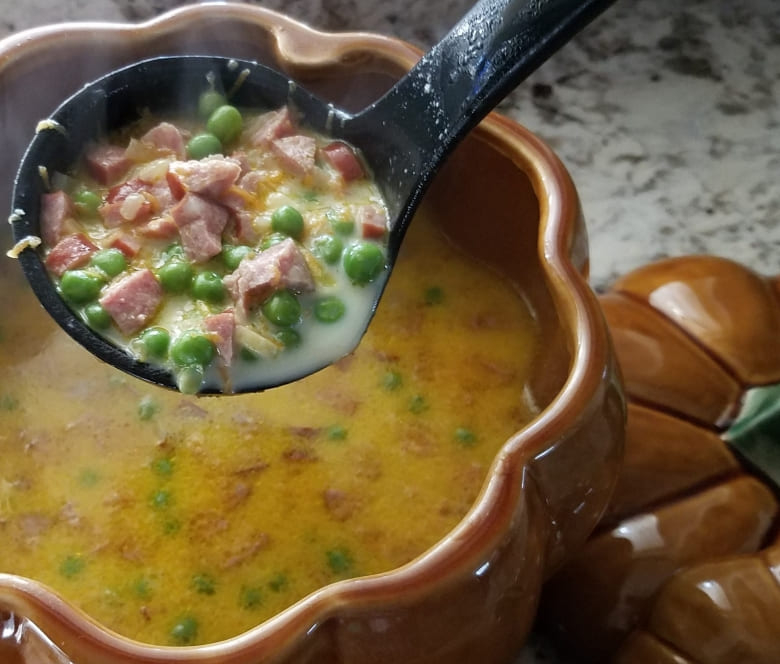 20

30

50

4
Soup is the perfect supper before or after trick-or-treating or any fall holiday outing. Nutritious whole or two-percent milk gives the broth a wonderful silky texture. Few foods can match milk's overall health benefits, and medical and other wellness professionals endorse milk consumption for people of all ages. Besides helping keep bones strong with calcium, milk adds protein, vitamin B12, riboflavin, and phosphorus to our daily diet. Using milk in recipes is a great way to add essential nutrients and flavor to menus.
Recipe written and created by Heather McPherson.

Print Recipe
Ingredients
1 tablespoon butter, or as needed
1 tablespoon olive oil
1 small yellow onion, diced
Coarse salt and freshly ground pepper to taste (see note)
1 cup finely shredded carrots (see note)
1 cup dry white wine
32 ounces chicken or vegetable stock
14 ounces fully cooked smoked sausage, diced into small pieces
2 cups 2 percent or whole milk
15-ounce bag frozen sweet peas
Freshly chopped parsley and finely shredded carrots for garnish (optional)
Preparation
Heat the butter and olive oil in the bottom of a Dutch oven or medium stockpot on medium high heat. Add the onion and season with salt and pepper. Let cook until the onions are translucent, then turn stovetop to medium and continue to cook the onions just to the point of caramelization, stirring often. Raise the heat to medium high. Add the carrots and stir constantly until the carrots just begin to caramelize. At this point the pan should be almost dry. If needed, add an additional teaspoon of butter. When the carrots begin to turn a bit brown, deglaze the pan with the white wine and bring to a boil, stirring constantly, about 3 minutes. The liquid volume should be noticeably reducing. Reduce heat to medium low.
Add the chicken stock and stir. Taste for seasoning and add more salt and pepper as needed. Bring mixture to a boil for 1 minute.
Reduce heat to medium low. Stir in the smoked sausage. Ladle a little of the broth into the milk to temper the liquid. Slowly pour milk mixture into the pan while stirring. Taste broth for seasoning and add more salt and pepper as needed.
When mixture is heated through, stir in frozen peas. Cover the pot and lower the heat to simmer. Let soup cook for 5 to 10 minutes, gently stirring, until peas are warmed through. Garnish as desired and serve.
Recipe notes:
Finely shredding the carrots helps the vegetables cook faster and allows the color of the carrots to add a slight golden hue to the final creamy broth. The bagged pre-shredded carrots sold in supermarkets can be substituted if you finely chop them before using. The long shreds are not spoon-friendly for soups.
Prep time will vary according to knife skills.
Add salt and pepper a few grinds at a time. You can always add more seasoning, but, if you add too much, you can't take it away.