Fish Tacos with Mango Slaw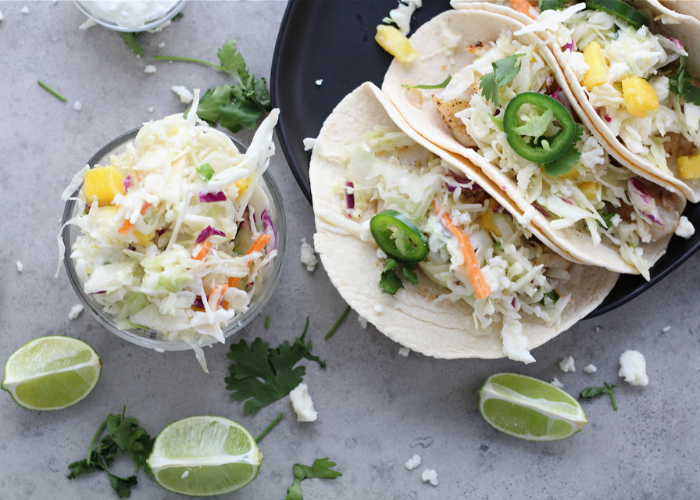 20

8

28

4

Print Recipe
Ingredients
Fish Tacos
1-2 lbs of fish - I used Cod
2+cups of Florida Milk - I used 2%
Your favorite seasoning - I used a blackening seasoning
1 tsp coconut oil - feel free to substitute your favorite cooking oil
Mango Jalapeno Slaw
16 oz bagged coleslaw mix
1/4 cup of olive oil
1/4 cup apple cider vinegar - you can also use red wine vinegar
1/4 cup sugar
1/4 cup non-fat plain GreeK yogurt
1 jalapeno - diced
1 mango - diced
Preparation
Fish Tacos
Place fish in a large bowl and cover with Florida Milk. Allow the fish to soak for at least 20 minutes. Soaking the fish in milk removes any "fishy smell" and tenderizes the fish.
Preheat a cast iron skillet or your favorite non-stick skillet.
Add the coconut oil.
After the fish has been in the milk for 20 minutes, place it in the heated skillet.
Sprinkle on your favorite seasoning.
Flip the fish after 2-4 minutes depending on the thickness of your filets.
Sprinkle the other side of the fish with your favorite seasoning.
When the fish is flaky and white it is done, approximately another 2- 4 minutes.
Serve on soft tortillas or hard taco shells.
Top with Mango Jalapeno Slaw.
Garnish with queso fresco (or your favorite cheese) and extra jalapeno slices.
Mango Jalapeno Slaw
Mix all the ingredients, stir well, cover and refrigerate until ready to use.