Maple Chipotle Sweet Potatoes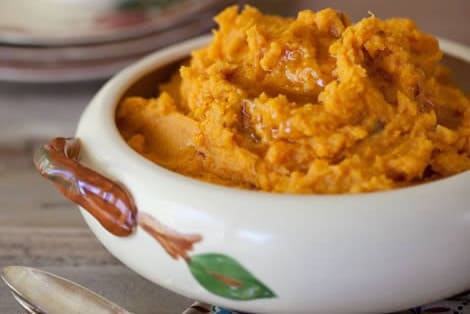 Print Recipe
Ingredients
Preparation
Recipe by Bold with Butter
Yield: 8-10 servings
Ingredients:
4 to 4 ½ pounds sweet potatoes
1 cup whipping cream
6 tablespoons butter
1 canned chipotle pepper plus 1 teaspoon adobo sauce
4 tablespoons maple syrup, divided
2 teaspoons salt
pepper
zest of one orange
Directions:
Peel and quarter sweet potatoes and place in a large saucepan, cover with water and bring to a boil. Cook for 10 minutes or until potatoes are fork tender and cooked through.
Meanwhile in a small saucepan, bring cream, butter and chipotle plus adobo sauce to a boil. Reduce heat to low and simmer for 5 minutes.
Drain potatoes and mix with a hand-held mixer for 1 minute. Add cream mixture, 2 tablespoons maple syrup, salt and pepper and orange zest. Mix until well-combined and creamy. Add more syrup if needed.
Serve with drizzle of remaining syrup if desired.