Quarterback Quesadilla with Pineapple Salsa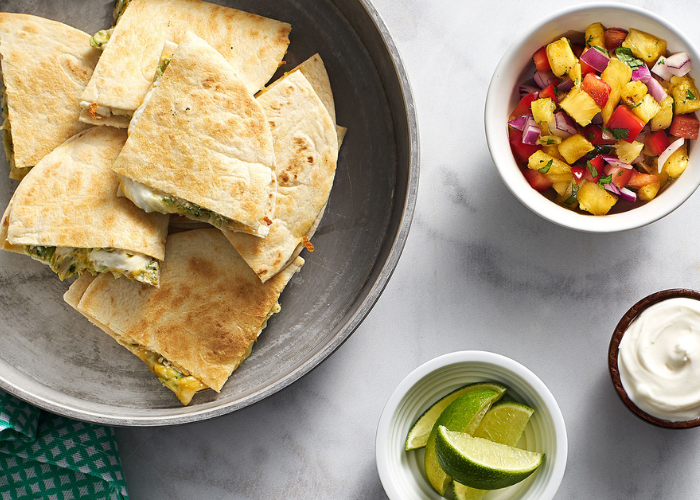 15

5

20

6
Recipe by Lake Gibson Middle School.

Print Recipe
Ingredients
Quesadilla
¼ C rotisserie chicken, cooked
2 tortillas
¼ C Mexican blend cheese
¼ C mozzarella cheese
¼ C olive oil
1 clove garlic
½ tsp parsley
½ tsp cilantro
Pinch salt
Pinch pepper
2 green onions
1-2 T spicy jalapeno cream cheese
Pineapple Salsa
1 C pineapple, diced
2 T red onion, diced
¼ C red bell pepper, diced
¼ C cilantro, chopped
1 T lime juice, fresh
¼-1/2 C cream cheese fruit dip
Preparation
In a blender, add the cilantro, parsley, garlic, lime juice, 3 T olive oil, salt and pepper and blend until it's a puree.
Mix ½ of the puree with the shredded chicken and set aside. Use the other ½ as a garnish.
In a medium mixing bowl, add the pineapple, red onion, bell pepper, cilantro and lime juice; Season with salt and pepper.
Heat a quesadilla maker and spray with butter.
Lay 1 tortilla on quesadilla maker. Place ½ C cheese on the tortilla to cover the whole surface.
Add ½ C shredded green chili chicken on half of the tortilla and sprinkle with green onions; Fold in half.
Cook on each side for 3 minutes or until golden brown.
Cut each quesadilla into 3rds and garnish with pineapple salsa, fresh lime and green chili sauce.
Serving Instructions: Serve immediately.