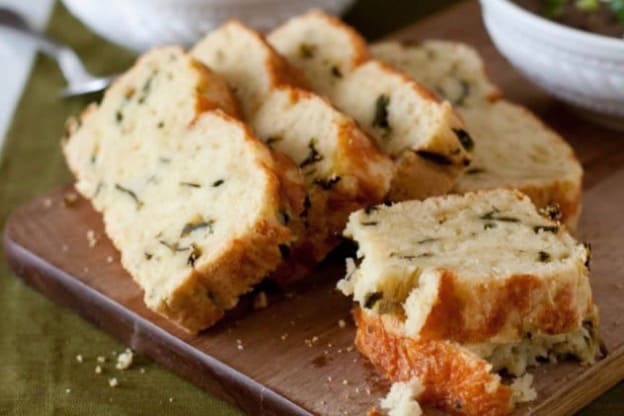 20

60

80

6

Print Recipe
Ingredients
2 poblano peppers

1 ½ cups all-purpose flour

2 teaspoons baking powder

1 teaspoon salt

½ teaspoon garlic powder

Dash cayenne pepper

6 ounces Monterey Jack cheese, shredded, divided

1 cup beer

1 large egg, lightly beaten

4 ounces (1 stick) unsalted butter, melted
Preparation
Preheat broiler. Place poblanos in metal baking dish and place under broiler. Cook, turning occasionally, until all sides are charred and bubbling, about 20 minutes total. Transfer charred pepper to bowl and cover with foil. Let rest 15 minutes. Meanwhile, lower oven temperature to 375F. Transfer peppers to cutting board. Peel away charred skins and discard, along with stems and seeds. Coarsely chop roasted peppers. Set aside.

In a medium bowl, combine flour, baking powder, salt, garlic powder, and cayenne. Whisk to blend. Add chopped poblanos and most of the Monterey Jack cheese, reserving a portion for the top. Toss with fork to combine. Stir in beer, egg, and melted butter and mix just until all dry ingredients have been incorporated. Spread batter into lightly greased 9 x 5- inch loaf pan. Top with remaining cheese.

Bake for 35-40 minutes, or until toothpick inserted in center comes out clean. Transfer pan to wire rack and let cool 10-15 minutes. Gently run knife around edges to loosen loaf. Carefully turn loaf out of pan. Serve warm in thick slices.