Make-Ahead Cheesy Mashed Potatoes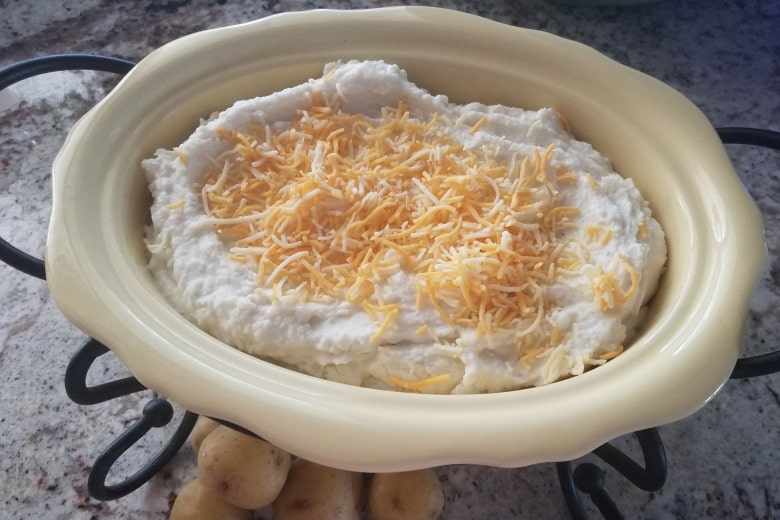 20

40

60

10

Print Recipe
Ingredients
4 sprigs fresh thyme
1 1/2 cups whipping cream or half and half
5 pound bag Yukon Gold potatoes
1 tablespoon salt
3 ounces cream cheese, cut in pieces, at room temperature
3 tablespoons butter, cut into pieces (or more to taste)
1 1/4 cups shredded triple Cheddar cheese blend (Vermont white, sharp, and mild), divided
Salt and white pepper to taste
Additional whole milk or cream as needed
Additional thyme sprigs for garnish
Preparation
Place thyme sprigs and whipping cream in small saucepan. Let simmer on very low heat while the potatoes cook.
Put potatoes in a large pot. Cover with cold water. Add 1 tablespoon of salt. Bring to a boil, then simmer until the potatoes are fork tender, about 35-40 minutes. Remove pan from the heat and drain.
Return potatoes to the pot with heat on low. Remove thyme from cream and discard. Pour cream over potatoes. Stir in the cream cheese, butter, and 1 cup shredded Cheddar. Season to taste with salt and white pepper. Using a masher or an electric mixer, mash potatoes to desired consistency. (Use additional milk or cream if needed for desired consistency.) If serving immediately, garnish with additional thyme.
To refrigerate up to four days, or freeze up to two weeks, pour potatoes into a buttered 9-by-13-inch pan. Cover and store in the refrigerator.
To reheat, remove from refrigerator and bring to room temperature, uncover. Dot top of potatoes with butter. Re-cover potatoes with foil and warm in a 350F oven 20-25 minutes. Uncover, sprinkle with an additional 1/4 cup of shredded Cheddar cheese and bake 5-10 minutes more. Stir with spoon to fluff before serving.