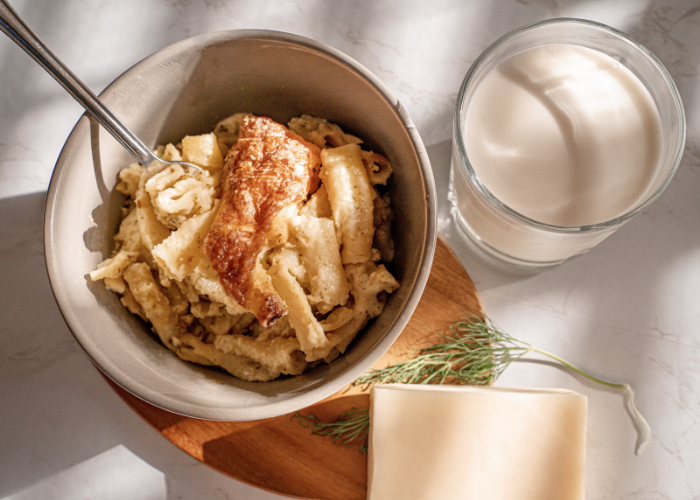 20

40

60

6

Print Recipe
Ingredients
Olive oil, for greasing baking dish

Kosher salt

1 pound ziti

4 cups of milk*

6 tablespoons unsalted butter

6 tablespoons all-purpose flour

1 1/3 cups grated Parmesan

1/4 teaspoon red pepper flakes

2 tablespoons of pesto paste

1 pound fresh mozzarella, half cut into 1/2-inch cubes and half thinly sliced
*Try lactose-free milk and a hard mozzarella cheese if you're lactose intolerant
Preparation
Preheat the oven to 400 degrees F. Brush a 9-by-13-inch baking dish with oil.

Bring a large pot of water to a boil. Salt generously, add the pasta and cook according to the package directions until al dente. Drain and add the pasta back to the pot.

Put the milk in a glass measuring cup and microwave in 30-second intervals, stirring in between each until just warm, about 2 minutes.

Melt the butter in a large saucepan over medium-high heat. Add the flour and whisk until combined. Continue to whisk until the mixture bubbles a bit but does not brown, about 1 minute.

Gradually pour in the warm milk while whisking constantly. Bring to a boil over high heat, whisking often and occasionally running a rubber spatula around the edges of the saucepan to prevent burning. When the sauce is boiling, reduce to a simmer over medium heat and cook until thickened to a nice coating consistency, 5 to 6 minutes.

Remove from the heat. Add 1 cup of the Parmesan, the red pepper flakes, pesto paste and 2 teaspoons salt. Whisk until smooth.

Pour the bechamel sauce over the pasta and toss to combine. Fold in the cubed mozzarella. Transfer the pasta to the prepared baking dish. Cover the top of the pasta with the sliced mozzarella and sprinkle with the remaining 1/3 cup Parmesan. Bake until lightly browned and hot, about 30 minutes. Serve immediately.