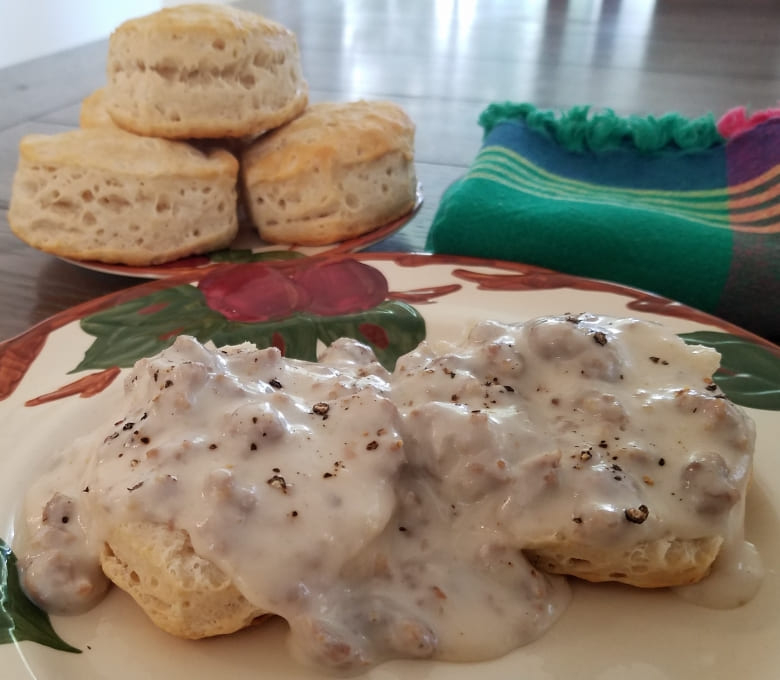 10

30

40

4
Warm biscuits blanketed with thick, sausage-studded gravy is comfort food at its best. It's a homespun dish that often has a few gourmet twists at the hands of creative restaurant chefs. Born in the South and now welcomed in kitchens all over the country, biscuits and gravy is sublime simplicity.
December 14th is National Biscuits & Gravy Day, but you can celebrate with a recipe that brings out the best in milk, cream and butter in the biscuits and the gravy all year round. The protein in the cream creates doughs that can rise and withstanding the rigors of baking, while adding flavor. Sausage gravy recipes are always suggested culinary routes. Preferred consistency and seasonings vary among households.
However, you like your biscuits and gravy, Florida's hard working dairy farmers make sure we can enjoy a steady supply of fresh, nutritious milk -- a product often referred to as "nature's most perfect food." Indeed, few foods can match milk's overall nutritional benefits, and doctors and health professionals endorse it for people of all ages.
Recipe written and created by Heather McPherson.

Print Recipe
Ingredients
Gravy:
12 ounces ground pork sausage
6 tablespoons flour
2 to 3 cups milk
Freshly ground salt and cracked black pepper to taste
1 teaspoon nutmeg
Biscuits:
1 3/4 cups enriched bleached self-rising flour
Freshly ground salt and cracked black pepper to taste
1 cup heavy cream
1/4 cup butter, melted
Preparation
Make the biscuits
Heat oven to 500F. Line a baking sheet with parchment paper.
Place flour into a large mixing bowl. Add salt and pepper and mix with a whisk. Make a well in the center. Gradually stir in cream into the well and then mix in the flour with a wooden spoon or rubber spatula. Dough should be sticky but hold together.
Scrape dough onto a lightly floured work surface. Fold two times to form a ball. Do not knead. Pat or roll dough gently to 1/2-inch thickness. Cut biscuits with a sharp-edged cutter, straight down, without twisting the cutter. Gather remaining dough and re-roll one time, cutting additional biscuits until you have 10-12 biscuits.
Place biscuits on baking sheet with sides touching for soft Southern-style biscuits or close together but not touching for biscuits with crisp sides. Brush tops with melted butter. Bake 8-10 minutes, or until tops are golden brown.
Make the gravy
For the gravy, place sausage in the large skillet and break into pieces with a wooden spoon. Turn heat to medium and cook, stirring and continuing to break up sausage until meat is browned. Do not drain rendered fat.
Stir in 1 tablespoon of the flour to coat the sausage. Gradually stir in remaining flour and milk. Season with salt, pepper, and nutmeg. Cook, stirring, until the gravy is thick and bubbly. Serve warm over split biscuits.
Test Kitchen notes:
If the gravy is too thin, add more flour a teaspoon at a time
It the gravy is too thick, stir in more milk until the desired consistency is reached.
The pork sausage drippings are not drained off in this recipe. The flavored fat becomes an essential part of the fat that helps thicken the gravy. If the sausage is exceptionally lean, you may need to add 1 tablespoon of butter.
The gravy recipe can be doubled.
Self-rising flour for biscuits ensures the right amount of leavening is used.
Return milk to the refrigerator immediately after pouring out the amount needed.
You will have more biscuits than needed for a 4-6 serving recipe of gravy. Save the remaining biscuits for tomorrow's breakfast or cube to make croutons.