Cheesy Garlic Monkey Bread

Print Recipe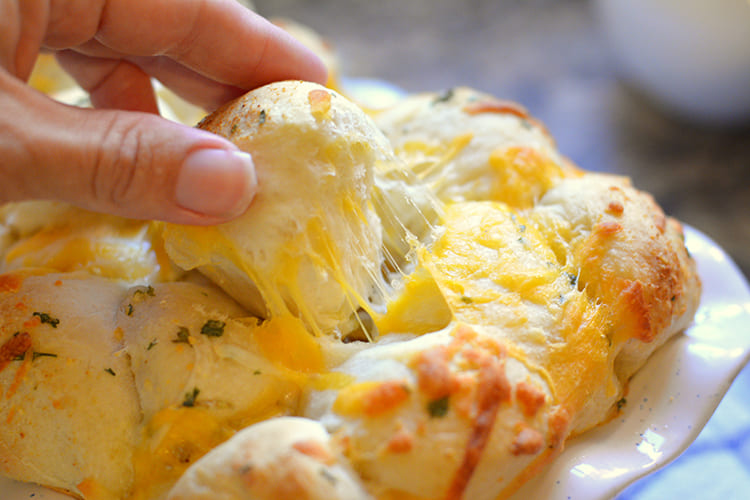 Prep time: 1 hour (15 minutes active, 45 minutes rise time)
Cook time: 30-35 minutes
Total time: 1 hour, 35 minutes
Serves: 4-6
Ingredients:
Bread dough: 1 lb (May be store bought/ frozen or homemade; homemade bread dough recipe follows)
½ stick butter, melted (4 tablespoons)
1 cup shredded Colby-jack cheese
2 tsp dried parsley
2 cloves garlic, minced
Directions:
Preheat oven to 350F
Divide dough into 2 ounce portions, shape into balls.
In a small bowl, mix the butter, parsley and garlic together.
Dip ½ of each dough ball into the butter mixture and place in a greased 9x5" loaf pan
When the bottom of the pan is covered, sprinkle 1/3 cup cheese on top of dough
Continue with remaining dough, adding cheese as each layer is formed.
Top with any remaining cheese.
Allow to rise in a warm place (75-80F) for 45 minutes, or until almost double in size.
Bake in preheated oven for 35-40 minutes, or until golden
Homemade Bread Dough
Makes: 1 lb
Prep time: 45 minutes
Ingredients:
1 cup warm water
1 teaspoon salt
2 tbsp. oil
2 teaspoons honey
4 cups bread flour
1 ¾ teaspoons yeast
Directions:
Combine the water and yeast in a bowl, allow to dissolve five minutes.
Add the oil, honey, flour and salt and mix until a dough is formed.
Knead dough 15 minutes and allow to rest 30 minutes before shaping into balls for above recipe.
If you like this...