Empanadas de Humita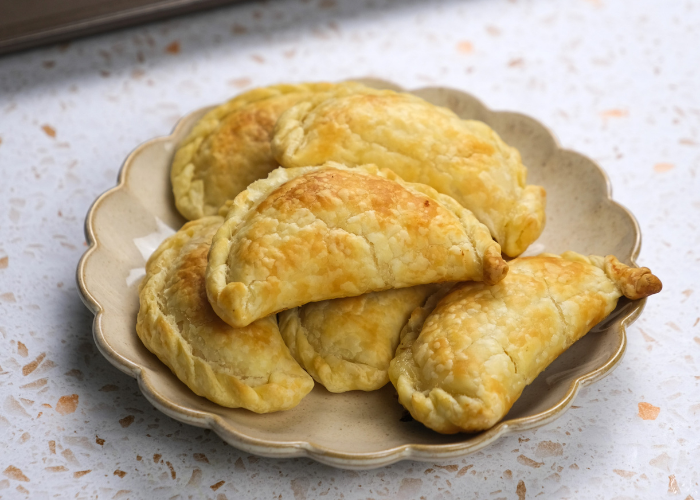 5

40

45

12

Print Recipe
Ingredients
3/4 cup milk
12 discs empanada dough
1 tbsp butter
1 chopped onion
2 cups corn
2 cups shredded low-fat mozzarella cheese
1/4 tsp salt
1/4 tsp ground nutmeg
1 tbsp water
1 tbsp olive oil
Preparation
Heat a pan to medium-high heat and melt the butter.

Cook the chopped onions while stirring consistently until they become translucent with brown and crispy edges.

Add the corn to the pan with the onions and saute for a few minutes.

Add the milk and cheese to the pan, then stir until the cheese melts and a thick, creamy sauce forms.

Season the sauce with ground nutmeg and salt, and stir until it is evenly seasoned.

Set the sauce aside until it cools to room temperature and it thickens.

Place an empanada dough disk on a cutting board and moisten the edges by dipping your finger in water.

Place a heaping scoop of the creamy corn filling onto one half of the disk, then fold the other half of the dough over the filling.

Press the edges together to seal the empanada. Pinch small pleats or press with a fork to seal the filling in before baking.

Once the empanada is ready, place it on an oiled baking sheet. Make the remaining empanadas, spacing them 1 inch apart.

Lightly brush the empanadas with olive oil, and bake at 400° for 15-20 minutes or until the dough is flaky and golden.

Allow the empanadas to cool for 5-10 minutes after removing them from the oven before serving them.