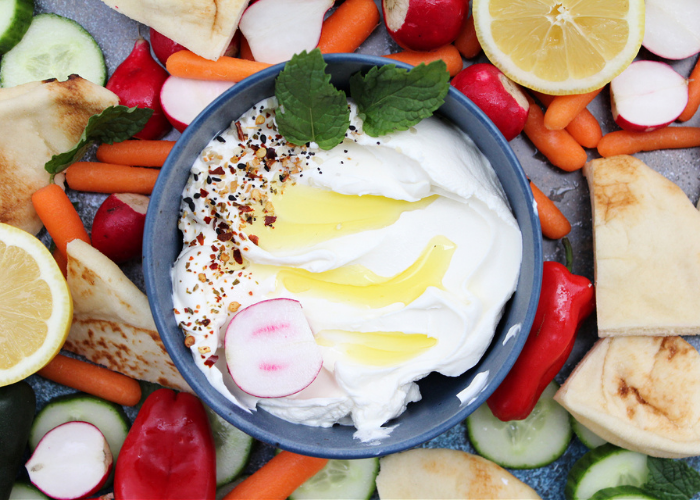 15+chilling

0

15+chilling

Varies

Print Recipe
Ingredients
32 oz Whole Milk Yogurt - It's important to use whole milk
3/4 teaspoon salt
Za'atar spice - if you can't find this, use Everything Bagel Seasoning
Olive oil
Red Pepper Flakes if desired
Preparation
Pour the yogurt into a large bowl. Stir in salt.
Line another large bowl with a cheesecloth. I folded the cheesecloth in half, so that the yogurt will be placed over 2 layers. Make sure a large spoon can fit over the top of the bowl. You will be tying the cheesecloth with the yogurt in it to the spoon so that it is suspended above the bottom of the bowl. I know that sounds tricky, but it's not :)
Pour the yogurt mixture into the cheesecloth.
Place a large spoon over the top of the bowl.
Bring the edges of the cheesecloth together, tie it around the wooden spoon.
The labneh will hang in the center of the bowl, but make sure it does not touch the bottom of the bowl. I actually had to switch bowls twice! I found that my 8-cup measuring bowl would have been the perfect option from the start.
Chill for 24 hours or at least overnight.
When ready to serve, place the labneh in a bowl and top with olive oil and seasonings.
Serve with fresh veggies, pita, and/or crackers for dipping.
Notes:
Labneh can be used like soft goat cheese on salads or pizzas...yum!

Labneh can be stored in the fridge for up to two weeks.