Mini Football Crescent Pizzas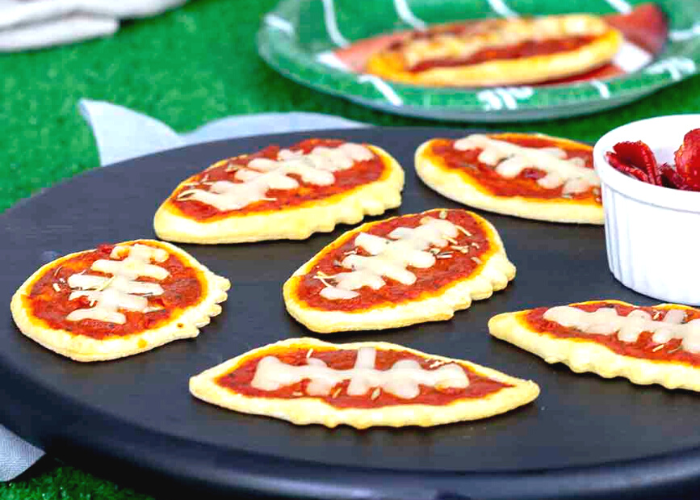 20

10

30

4

Print Recipe
Ingredients
1 sheet crescent dough

6 oz. pizza sauce

2-3 sticks mozzarella string cheese

Italian seasoning (*optional)

pepperoni (*optional)
Preparation
Preheat oven to 375°F.

Lightly flour cutting board and unroll cold crescent dough. Cut out 9-12 mini footballs using football cookie cutter.

Place footballs on baking sheet and spread a spoonful of sauce over each football. Spread to edges leaving a slight border. Bake for 7 minutes.

Meanwhile, cut mozzarella cheese into 9-12 (2-3") strips and 63-108 mini ½" strips. (Get your kids to help with this!)

The mini strips are for the vertical laces. Each football should get 7-9 laces.

When pizzas are slightly cooled, add 7-9 vertical strips evenly spaced apart onto each football. Top with one long horizontal strip.

Place back in the oven for 1-2 minutes. Serve hot!
Recipe Notes
Keep your crescent dough as COLD as possible! Working with cold dough will make it much easier to cut and transfer.

Make sure you bake your dough first. If you skip this step, your cheese will burn and crust will be undercooked.

Cut your laces long enough so they look like laces when melted.

Make the vertical laces shorter on the ends to look more realistic.

Cut your pepperoni into mini circles using a piping tip and add them to the sauce if you prefer.

Add cheese underneath the pizza sauce if your kids love more cheese.