Rasmalai Cheese Hearts in Rose Milk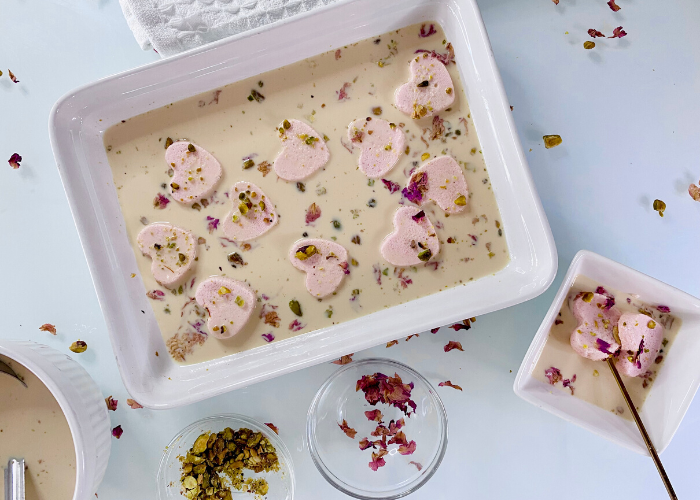 60

30

90

24

Print Recipe
Ingredients
Cheese Mixture:
32 oz whole milk ricotta cheese
½ tsp ground cardamom
5 tbsp white sugar
½ tsp Rosewater
Oil spray for baking
1/3 cup of crushed pan pistachios
Rose Milk:
1 14 oz can Condense Milk
12 oz Half & Half Milk or Evaporated Milk
16 oz
1 cup of Whole Milk
1 tbsp Rosewater
¼ cup crushed pistachios
8-10 crushed saffron strands
1/8 tsp ground cardamom
additional sugar if desired
Preparation
Preheat oven to 325 degrees F.
Mix ricotta cheese with spices and sugar in a bowl.
Spray a silicone cupcake pan with oil spray (preferably one with a heart mold). Fill each slot with 2 tbsp of cheese mixture.
Place the cupcake pan into a larger flat pan. Then fill the larger pan with water halfway to create bain marie.
Bake for 25 - 30 minutes at 325 degrees F.
Cheese should not be loose, but slightly firm to the touch. If loose, bake for 5 mins more at a time.
Remove the cheese from the oven when done. Place into the refrigerator immediately and let cool for 30- 45 mins.
While the cheese dumplings are cooling, combine all ingredients for the rose milk mixture in a pot.
Heat on the stove until warm 4- 5 minutes. Do not boil or simmer.
When cool, remove from the pan and add the rose milk mixture.
Allow Rasmalali to soak in Rose Milk overnight for the best taste.
To serve garnish with crushed pistachio and/or dried rose petals.
Notes: Tools: 24-slot mini-size cupcake silicone pan. A heart-shaped silicone pan is used in this recipe and a Large pan for the water bath. If you do not have a large pan to create the water bath. Fill any baking pan, fill halfway with water, and place it on the bottom rack of your oven. This will create moisture in the oven.