Boozy Hazelnut Frozen Hot Chocolate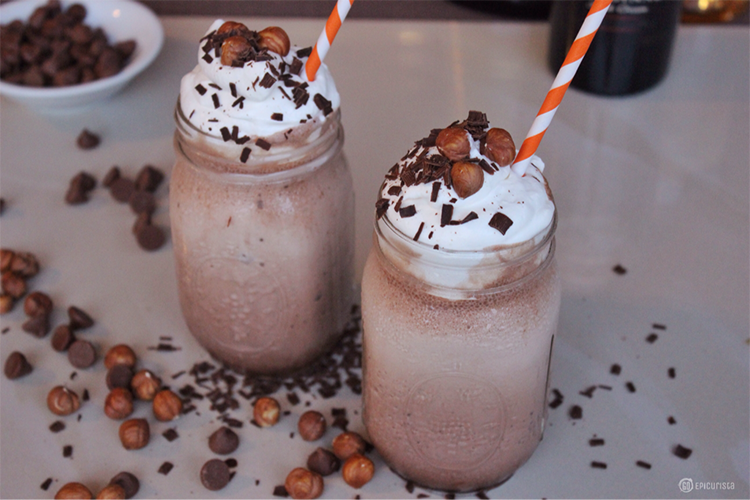 15

0

15

2

Print Recipe
Ingredients
Hot Chocolate:
1.5 cups Milk (Use Whole Milk for extra creamy consistency)
3 oz Hazelnut liqueur
3 oz Bailey's Irish Cream
3/4 oz Orange liqueur
1 tablespoon Sugar
1 tablespoon Non-Fat Dry Milk Powder
1 tablespoon Ghirardelli Hot Cocoa Powder
1 oz Ghirardelli Milk Chocolate Chips
2 oz Ghirardelli 60% Cacao Bittersweet Chocolate bar
Pinch Salt
4 cups Ice
Garish:
Whipped Cream (see recipe below)
Shavings Ghirardelli Chocolate Bar
Roasted Whole Hazelnuts
Homemade Whipped Cream:
1 cup Heavy Whipping Cream, extra chilled
3 tablespoons Powdered Sugar
¼ teaspoon Vanilla Extract
Preparation
Hot Chocolate:
Prepare homemade whipped cream (see recipe below), cover with plastic wrap and hold in refrigerator until drink is ready to be served.
Combine sugar, dry milk powder, cocoa powder, and salt in small bowl and stir to combine.
Place chocolate pieces in a microwave safe bowl and melt in 15 seconds increments, stirring each time, until completely melted.
Add the dry ingredients to the melted chocolate and stir to mix.
Slowly add ½ cup of milk and stir until smooth. Cool to room temperature.
Pour liqueurs, remaining cup of milk, room temperature melted chocolate mixture, and ice in blender.
Blend on high to achieve your desired consistency. Think of a frozen daiquiri or frappe consistency.
Use a vegetable peeler with long strokes along the edge of the chocolate bar to create chocolate shavings for garnish.
Pour frozen drink into a giant goblet, large mason jar, or mug and top with a large dollop of whipped cream, chocolate shavings and roasted hazelnuts.
Homemade Whipped Cream:
Combine cream and vanilla in a chilled bowl.
Using an electric mixer with whisk attachment, whip the cream mixture on medium speed, and slowly add sugar until cream holds soft peaks.
Dollop on top of your frosty beverage and enjoy!