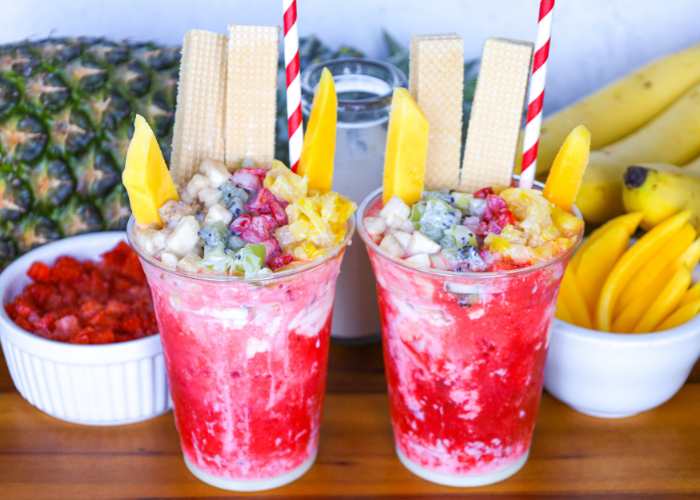 5

5

10

2

Print Recipe
Ingredients
3-4 cups of ice (finely blended to get that shaved ice consistency)
1-2 tablespoons of table cream (or more depending on preference)
3-4 tablespoons Sweetened condensed milk (can use less or more depending on how sweet you want it)
1-2 cups of fruit syrup (can add more)
1 diced banana
2 diced strawberries
1 diced kiwi
1 diced pineapple
1 diced mango
Vanilla Wafers
Preparation
Add three cups of ice to a blender or food processor.
Blend slowly at a low to medium level until you get a shaved ice consistency.
In a cup, drizzle plenty of sweetened condensed milk around the inside.
Then add the shaved ice to the same cup.
Pour a generous and equal amount of your choice of fruit syrup and table cream on top.
Top it off with your favorite fruits (diced up).
We went with bananas, kiwi, strawberries, and pineapple.
Finish up with another drizzle of sweetened condensed milk on top of the fruits, with some mangos and vanilla wafers.
Notes:
You can add as much cream and sweetened condensed milk as you'd like, depending on how sweet you want it.
You can use any of your favorite fruits.