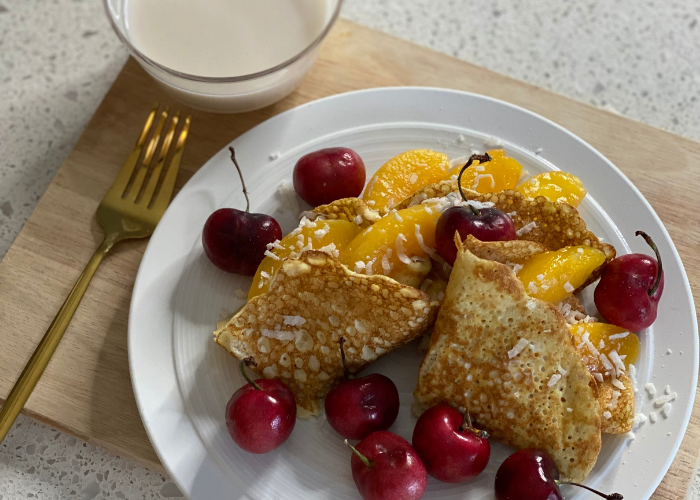 15

2

17

4

Print Recipe
Ingredients
1/4 cup oat flour
1/4 cup almond flour
2 tbsp sweetener of choice
1/3 cup @floridamilk
1/4 tsp almond extract
1/3 cup water
1 peach, sliced
coconut yogurt or coconut cream
shredded coconut to garnish
1/2 cup cherries
Preparation
In a large bowl mix the flour and sugar. Add the milk and almond extract and mix.
Slowly pour water in while mixing. Add water until the batter looks thin and easily pourable.
Heat a nonstick pan over medium heat. Pour in about a third of the batter and quickly pick up the pan and tilt in circles to spread the batter into a thin crepe.
Let cook until browned - shouldn't take any more than 2 minutes. Gently flip and cook for a few more seconds. Repeat with remaining batter
Fill crepes with sliced peaches and a dollop of coconut yogurt and fold up.
Top with shredded coconut and enjoy!