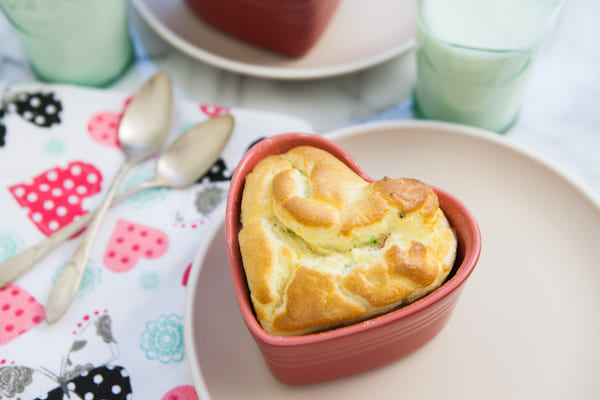 15

20

35

5

Print Recipe
Ingredients
3 large egg whites, reserve 2 of the egg yolks for later use
1/4 teaspoon cream of tartar
2 Tablespoons chopped fresh chives
4 slices cooked pork or turkey bacon, chopped small
2 Tablespoons shredded sharp cheddar cheese
1/2 cup 2% milk (low fat)
1 1/2 Tablespoons all-purpose flour
1/4 teaspoon garlic powder
salt & pepper
non-stick cooking spray
2 to 3 Tablespoons flour
Preparation
Heat oven to 425

°

F. Put a foil covered baking sheet in the oven.
Place egg whites and cream of tartar in a medium-sized mixing bowl, mix and set side. Let sit for at least 15 minutes.
Place egg yolks, chives, chopped bacon, cheese, milk, flour, garlic powder, salt, and pepper into another medium-sized mixing bowl and mix with a whisk until combined.
Using an electric hand mixer, whip on medium high the egg whites and cream of tartar to medium peaks, about 2 to 3 minutes. Add a quarter of the whipped egg whites into the other egg mixture and mix with a rubber spatula. Carefully fold the remaining egg whites in.
Prep the ramekins. Spray with nonstick cooking spray and add flour. Shake out the excess. Ensure the sides are covered in flour. Spoon (don't pour) the egg mixture into the ramekins. Tap the sides of the ramekins to level them out. If you want, you can use a spoon or butter knife to level the top off.
Place ramekins on baking sheet inside oven. Turn the heat down to 350

°

F and bake for 20 to 22 minutes until the tops are golden brown and puffy.