Baked Strawberry Donuts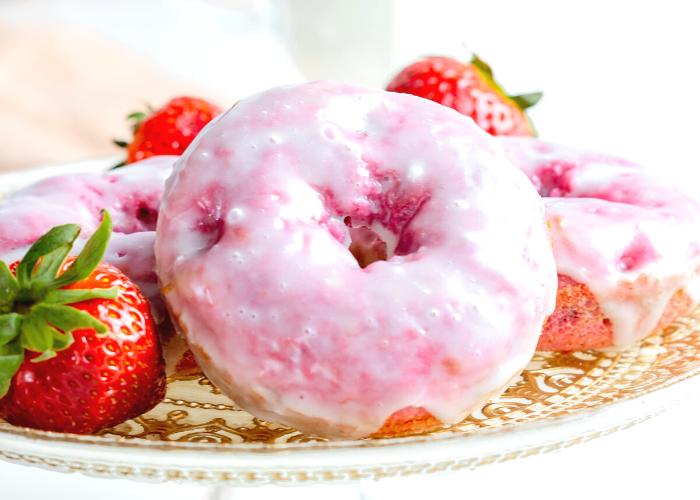 17

7

22

12

Print Recipe
Ingredients
1 tablespoon butter, unsalted

¾ cup sugar

1 egg

¾ teaspoon vanilla extract

½ cup buttermilk

¾ cup cake flour

¾ cup all purpose flour

½ teaspoon baking soda

1 teaspoon baking powder

¼ teaspoon salt

12-15 strawberries (about 1 cup pureed)
Preparation
Preheat oven to 400°F.

Trim your strawberries and add them to a food processor. Pulse until you have a chunky puree. See photo above. (You don't want to over-pulse so it turns complely to liquid.) Set aside.

Mix together your butter, sugar and egg in a large mixing bowl on medium-high speed for about 2 minutes.

Add in your vanilla, buttermilk and strawberry puree and mix again until blended.

Add in both flours, baking soda, baking powder and salt and mix on low speed until JUST incorporated. You do not want to overmix! Scrape down the sides of the bowl if needed.

Add donut batter to a large piping bag or freezer bag. Add bag to a large cup or mug and fold it over the sides of the cup. (This makes for a neater fill!)

Use a rubber spatula to scoop the batter neatly into the bag. Close bag and snip off the corner of the freezer bag (if using).

Grease donut tin and squeeze batter into each tin carefully. You want to fill the tin no more than HALFWAY.

Bake for 7-8 minutes on the middle rack.

Whisk together your powdered sugar and milk in a bowl and set aside.

Add donuts to a wire rack and pour glaze over top of each allowing the glaze to drip off. Alternatively, you can dip the top of each donut into the glaze one by one. The glaze will harden after about 20-30 minutes. Enjoy!
Notes:
Using ingredients like buttermilk and cake flour DO make a difference!

Grease your donut tins very well and remove them while they are still hot to prevent them from sticking.

Add more sugar to your batter if you like sweeter donuts.

Use extra ripe strawberries for the most strawberry flavor.

Double ice your donuts for a thicker glazed topping.