Bananas Foster French Toast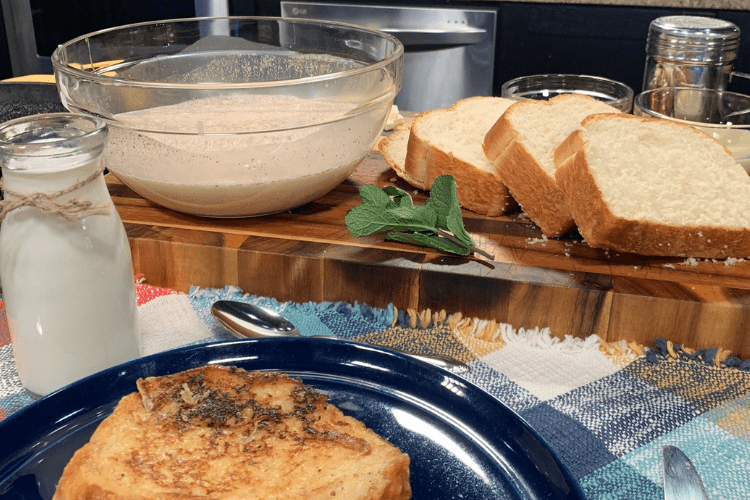 5

15

20

5
Start your day with a delicious Bananas Foster French toast breakfast originally created by
Chef Chris Valdes
.

Print Recipe
Ingredients
For the Bananas Foster:
2 whole bananas, sliced in 1/2 inch rounds
5 tbsp butter
1/2 cup brown sugar
1/2 cup of bourbon or dark rum
For the French toast:
1 whole bread loaf, sliced in 1-inch-thick slices
2 cups of whole milk
4 eggs
1 tsp ground cinnamon
3 tbsp butter
Powdered sugar
Preparation
For the Bananas Foster:
Melt butter in a saucepan over medium heat.
Add butter and brown sugar and cook for about 4 min until butter has melted and mixed with the brown sugar.
Add the sliced bananas and cook until the bananas are soft and lightly cooked, about 3 minutes.
Carefully add the bourbon or rum and flambé or cook for a few extra minutes to allow alcohol to evaporate.
For French Toast:
In a bowl, whisk together the eggs, milk, and cinnamon.
Melt butter in a small pan with medium heat.
Dip each slice of toast one at a time into the eggs mixture for about 3 seconds per side and place in the hot non-stick pan.
Cook on medium heat until golden brown, about 3 minutes. Flip and repeat.
Place reserved Bananas Foster on top of the French toast and top with desired toppings like powdered sugar.
Topping Ideas:
Condensed milk, dulce de leche, whipped cream, chocolate syrup, white chocolate shavings, chocolate shavings, chopped strawberries, or walnuts.