Challah Bread Pudding with Homemade Caramel Sauce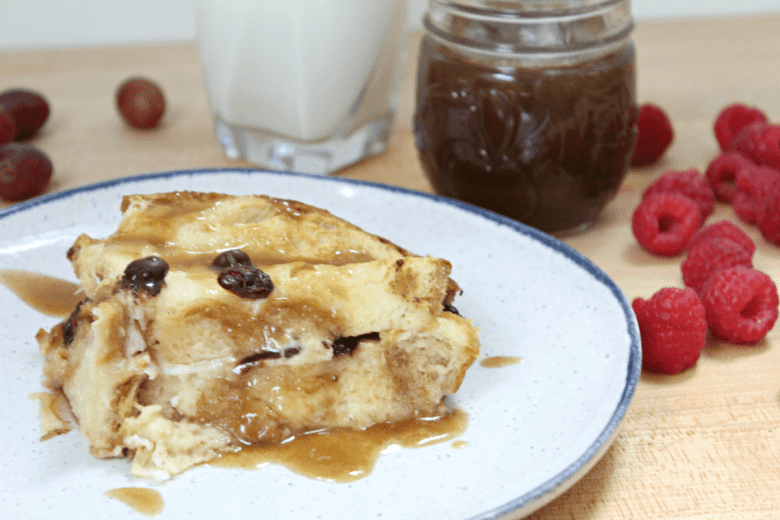 15

60

75

10
Creamy, rich and delicious - this Challah Bread Pudding with Caramel Sauce is easy to make and sure to be a hit at your holiday party.
Recipe is written and created by Tracy Shaw of Food Wine Sunshine.

Print Recipe
Ingredients
4 cups slightly warm milk
6 tbsp butter melted
1 ¼ cups sugar
1 tsp vanilla extract
6 eggs
1 loaf Challah bread
½ cup chocolate chips
½ cup raisins
Homemade Caramel Sauce
1 cup packed light brown sugar
1 stick of butter
¼ cup milk
1 pinch salt
Preparation
Preheat oven to 325°
Spray or butter bottom of 9x13 baking dish
Add one layer of the Challah bread on the bottom of the baking dish; you may have to customize your slices by cutting them slightly to make sure the whole bottom is filled
Sprinkle on half of the chocolate chips and half of the raisins
Add another layer of the Challah bread, following the same pattern of the first layer
Sprinkle on the remaining chocolate chips and raisins
In a large bowl mix milk, sugar, eggs, vanilla, and melted butter
Slowly pour the milk mixture over the layered bread
Cover with aluminum foil
Bake for 50 minutes
Uncover and bake for an additional 10 - 15 minutes until middle is set and top is slightly brown
Allow to cool slightly before serving
Easy Homemade Caramel Sauce
Add brown sugar, butter, and milk to a small sauce pan
Bring to boil, stirring regularly
Allow to cook for 3 - 5 minutes
Allow to cool slightly to thicken
Drizzle on top of bread pudding
Enjoy!
Notes
You can store remaining caramel sauce in a jar or a container in the refrigerator. Be sure to cool before refrigerating.