Fluffy Egg Tacos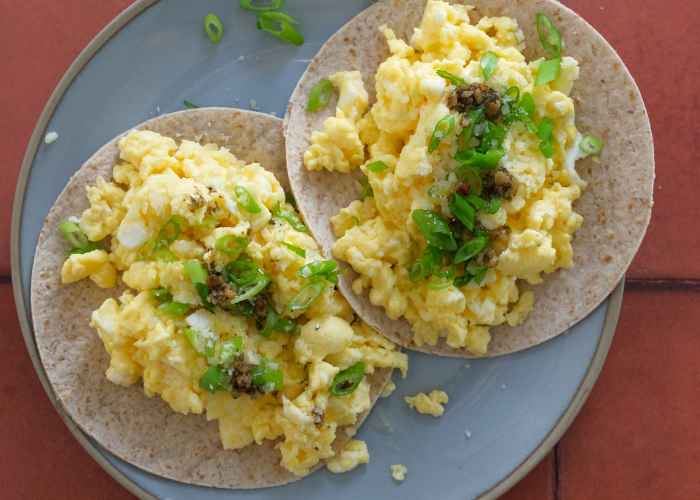 5

5

10

2

Print Recipe
Ingredients
4 eggs
1/2 cup milk
1 Tbsp butter
2 mini wheat tortillas
1 scallion
1 Tbsp chimichurri
1 Tbsp Parmesan cheese
salt (to taste)
Preparation
Heat a pan to low-medium heat.
Add all eggs to a bowl and whisk very well until a few air bubbles appear in the mixture. Add the milk and whisk again.
Finely chop the scallion and set aside.
Melt butter in the pan, and add the egg mixture.
Wait for the eggs to start slowly cooking on the bottom of the pan; they will turn from translucent to white. Once they start cooking, move the spoon gently from side to side to cook the eggs in layers. Salt to taste.
Keep stirring gently until the eggs are cooked but still moist. Don't cook them for too long (over 5 minutes, depending on your stove) because they will begin to dry out and lose their light and fluffy softness.
Serve immediately on the wheat tortillas. Top the eggs with chopped scallions, chimichurri, and Parmesan cheese.