French Toast Omelet Sandwich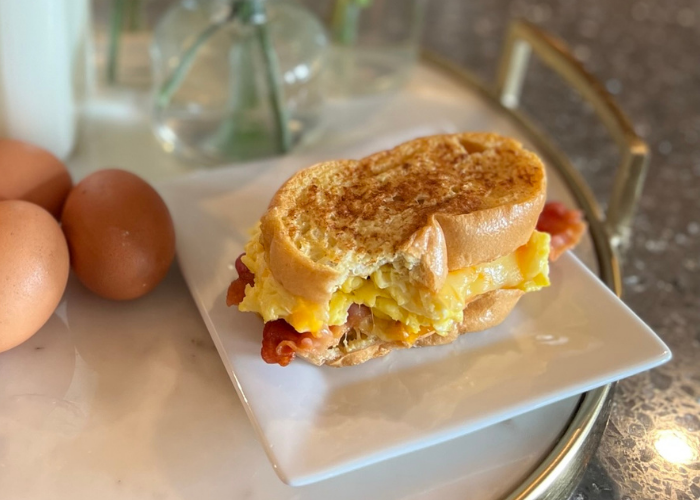 5

10

15

1

Print Recipe
Ingredients
2 eggs
2 tablespoons milk
1 teaspoon vanilla extract
1 dash cinnamon
2 slices bread
2 pieces bacon
1 slice cheese
Preparation
How to Make French Toast
Slice your bread.
Mix eggs, milk, vanilla extract, cinnamon in a bowl.
Soak the bread into the egg mixture on both sides.
Add to a pan with butter to cook until golden brown, flip to cook the other side.
How to Make Scrambled Eggs
Whisk together the eggs and milk in a bowl.
Spray the pan and turn the heat to low. Heat a nonstick skillet over low heat. Cook for about 30-40 seconds. Then, mix the eggs around the edges to allow uncooked portions to get on the skillet. Scrape the spatula every 10-15 seconds until the eggs are cooked well.
Add salt and pepper, then divide the eggs into equal portions for the sandwiches.
Assemble French Toast Omelet Sandwich
Start with a slice of french toast.
Add half a slice of cheese, then eggs, then bacon, and another half a slice of cheese.
Top with the last slice of french toast.