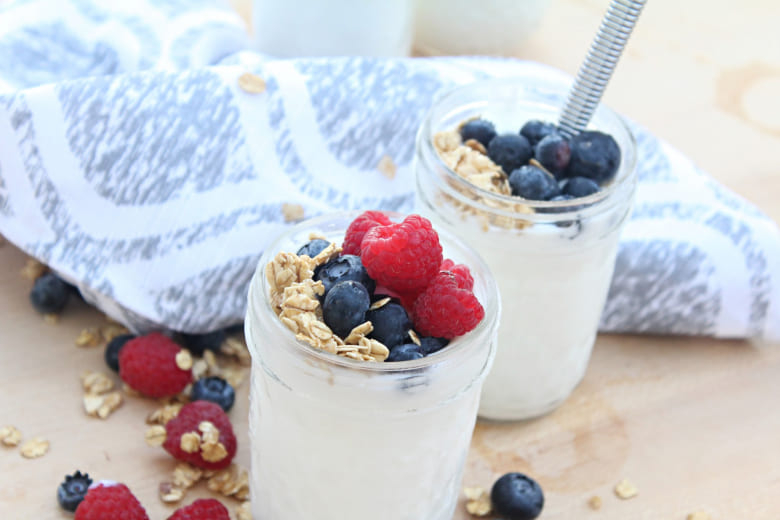 2+chilling

10

12+chilling

8

Print Recipe
Ingredients
8 cups 2% milk you can substitute whole milk

¼ cup plain yogurt I used nonfat, you can use regular

2 tsp vanilla extract
Preparation
Pour the milk into a Dutch oven and warm it over medium to medium-high heat until it reaches 180° to 200°F. Stir gently as the milk heats. Use a therometer to make sure the milk has reached the appropriate temperature.

Remove the Dutch oven from heat and allow the milk to cool to 112°F to 115°F. You can allow it to cool on the kitchen counter or to speed up the process you can place the dutch oven into an ice bath. Stirring it will also help the cooling process and stop a "skin" from forming on the top.

Using a measuring cup scoop out about a cup of warm milk from the Dutch oven and put it into a bowl. Add the store-bought yogurt and vanilla extract to the bowl and stir or whisk until smooth and there are no more clumps.

Pour the milk/yogurt mixture back into the Dutch oven and stir/whisk gently.

Place the lid on Dutch oven and put it into your TURNED OFF oven. Turn on the oven light and wrap the pot in a dishtowel to keep the milk warm as it sets.

After 4 hours you can check your yogurt. The longer it sits the thicker and more tart it will become. You can let it sit as long as 8 - 10 hours! The exact time will depend on the temperature of the yogurt, the cultures you used, and how you like your yogurt. If this is your first time making yogurt, check it at the 4 hour mark. If it has the flavor and consistency you like, you can stop there. Avoid checking on, stirring or jostling the Dutch oven while your yogurt is setting.

Once your yogurt is set, remove it from the oven.

If you see any water on the surface of your yogurt, you can either drain it off or whisk it back into your yogurt before putting it your containers.

Store your homemade yogurt in airtight containers in the refrigerator until you are ready to enjoy it! It will thicken a bit more once it's refrigerated. Your yogurt can stored in the refrigerator for about 7 - 10 days.

Top with homemade granola and fresh berries the night before or when you are ready to eat.

Enjoy!
Notes
You can make yogurt parfaits the night before. Simply top your yogurt with your favorite fruits, granola etc, cover and refrigerate.