Overnight Breakfast Sausage Enchiladas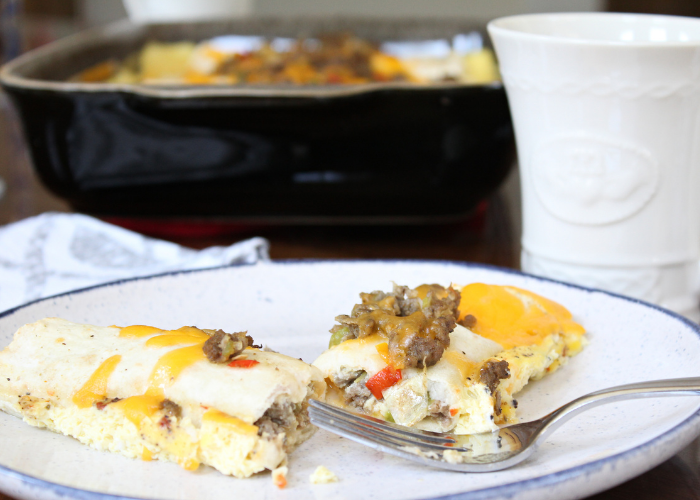 10

40

50

4

Print Recipe
Ingredients
1/2 sweet onion - diced
1 jalapeno - diced (seeds removed if desired)
2 mini sweet peppers - diced and seeds removed
16 oz breakfast sausage
1 tsp all-purpose seasoning
3/4 cup shredded cheddar cheese (divided into 1/2 cup and 1/4 cup)
8 tortillas - medium size
5 eggs
1 1/4 cup Florida milk
Preparation
Spray an 9x13 baking pan with cooking spray and set aside.
Add a touch of oil to a large skillet and warm.
Saute onion and peppers until tender.
Add the breakfast sausage and cook throughout, breaking apart bigger pieces as needed. Once sausage is cooked thoroughly, shut off the heat and let's assemble the enchiladas.
Lay all 8 tortillas out. Divide a 1/2 cup of shredded cheese amongst the tortillas. Sprinkle a little in each one.
Using a spoon, add the sausage mixture to each tortilla. Save about a 1/4 cup of the sausage mixture for the end
Using your hands roll each tortilla tightly and place in the tortillas in the prepared baking dish seam side down. Repeat until all tortillas are in the prepared baking pan.
In a medium bowl mix the eggs, milk and all-purpose seasoning.
Pour the egg-milk mixture over the enchiladas. Sprinkle the remaining sausage over the top.
Cover and refrigerate for 4 hours to overnight
Preheat oven to 350 degrees when ready to cook. Bake covered for 30-40 minutes until eggs are set
Remove foil, sprinkle with remaining cheese (feel free to add more!).
Place back in oven until cheese is melted - 3-5 minutes
Enjoy!