Protein Pancakes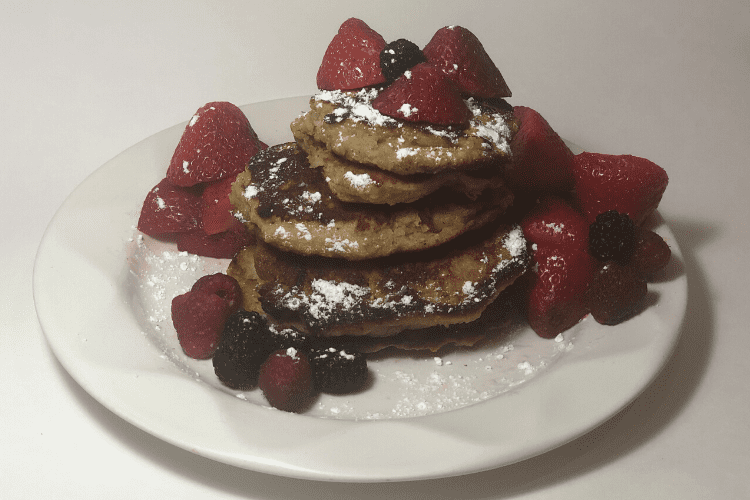 10

10

20

3
Recipe written and created by Alyssa Greenstein, Florida Dairy Farmer's own Senior Manager of Nutrition Affairs!
Almond-Oatmeal Banana Pancakes are high in protein and packed with vitamins and minerals. These pancakes will keep you full and satisfied and are easy to whip up in no time. They are delicious, healthy, light, and fluffy and the recipe utilizes items in your refrigerator, pantry and freezer that you may not be using by adding them to the pancakes. Get creative and add berries or chocolate chips to your batter. If you aren't a fan of cottage cheese, experiment with greek yogurt in its place. You won't believe how good they taste, its like having dessert for breakfast. If you have any leftovers, you can even freeze and use them for future meals.

Print Recipe
Ingredients
1 cup Milk

3 Eggs

2 Banana (ripe and mashed)

1/2 cup cottage cheese or Greek yogurt

1 1/2 cups Rolled Oats (I use Gluten-Free)

1 cup almond flour

2 teaspoons Baking Powder

2 teaspoon Vanilla

1 teaspoon cinnamon

3 Tablespoons 100% Real Maple Syrup
Toppings Ideas:
Fresh Berries

Real Maple Syrup
Chocolate Chips

Fresh Banana Slices

Sliced Almonds

Chocolate chips
Preparation
In a bowl, pour in milk, eggs, cottage cheese, mashed ripe banana, maple syrup, and vanilla. Mix well

Add oats to food processor and blend until smooth.

In separate bowl, combine almond flour, blended oats, baking powder, and cinnamon and mix.

Add wet ingredients to oats/almond mixture and mix

Heat skillet over medium heat. Once warmed, spray with non-stick cooking spray. Pour batter into skillet in round small

circles.

Cook for 3-4 minutes on one side. Turn over and cook for another 1-2 minutes.

Drizzle with real maple syrup and toppings of choice.
*you can use any dairy milk including lactose free