Pumpkin Pecan French Toast Casserole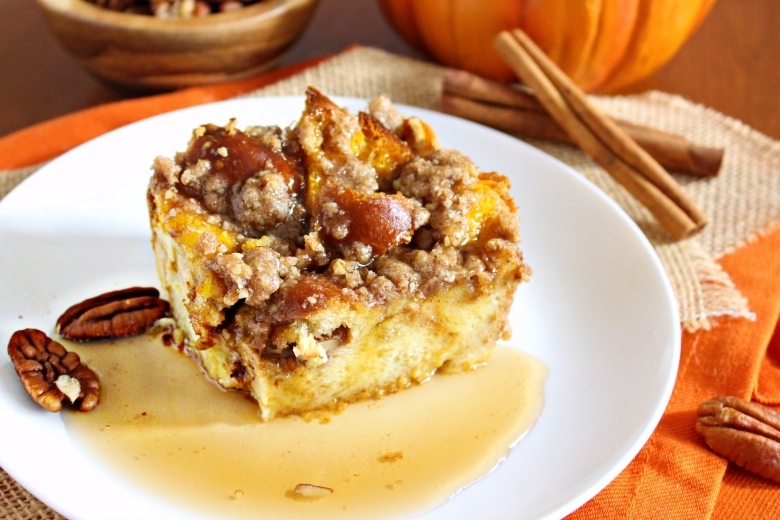 15

45

60

8

Print Recipe
Ingredients
1 pound loaf challah bread
2 1/2 cups milk
1/2 cup heavy cream
1/4 cup granulated sugar
1/4 cup brown sugar
1 tablespoon vanilla
8 large eggs
1 cup pumpkin puree, not pumpkin pie filling
2 teaspoons pumpkin pie spice
1 teaspoon cinnamon
1/4 cup chopped pecans
Pecan Crumble Topping
1/4 cup all purpose four
1/3 cup light brown sugar
1/2 teaspoon cinnamon
3/4 teaspoon pumpkin pie spice
1/4 teaspoon salt
1/4 cup unsalted butter, cubed
1/4 cup pecan halves
Preparation
Spray large 9 x 13 pan with cooking spray. Cube loaf and place half of the bread cubes into the pan. Sprinkle pecans over bread then place remaining bread cubes on top.
In a medium saucepan, heat the milk, cream and sugars until sugars are melted and milk is warm.
In medium bowl, whisk together vanilla, eggs, pumpkin puree and spices. Slowly drizzle the warm milk into the eggs whisking constantly.
Carefully pour mixture over bread, making sure it is completely coated. If necessary, use a spatula and move bread to make sure it is coated in the mixture.
Cover pan with plastic wrap and refrigerate overnight. Prepare topping. Sprinkle topping on just before baking
To bake: Remove casserole from refrigerator while oven heats. Heat oven to 350F. Bake, uncovered for 45-60 minutes, until center is set and no longer soggy.
Let cool 10 minutes before serving. Serve with warm melted butter, maple syrup, powdered sugar, fruit of choice, or toasted chopped pecans.
Instructions Topping
Combine all ingredients in food processor. Pulse until it resembles course crumbs. Place in container with lid overnight in refrigerator. Sprinkle on casserole just before baking.