Spanish Omelet Featuring Latin Cheeses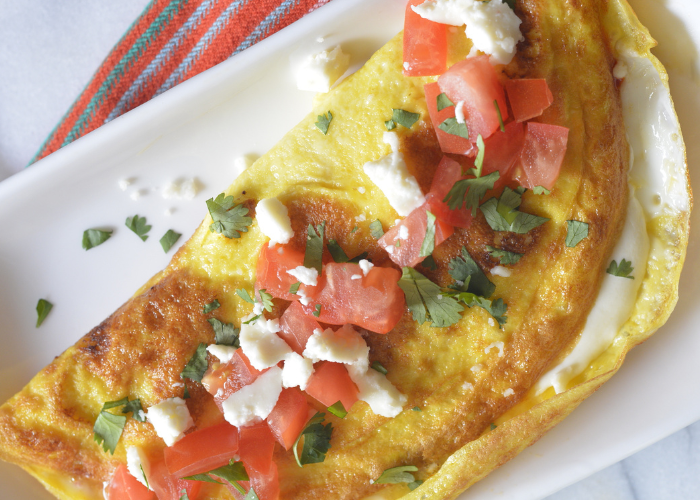 15

15

30

1

Print Recipe
Ingredients
1 tablespoon butter
2 tablespoons cream (or half and half)
3 eggs
2 tbs cooked, crumbled chorizo sausage
¼ cup Oaxaca cheese, diced (found in Latin supermarkets) *mozzarella may be substituted
¼ cup Queso Fresco (crumbled) *feta may be substituted
1 tbs canned diced green chilies (drained from can)
Fresh chopped tomatoes and cilantro for garnish
Preparation
Break the eggs in a bowl, add cream and beat until incorporated.
Heat butter in a small nonstick skillet over medium high.
Pour the eggs in, swirling the pan to spread eggs evenly.
Sprinkle the sausage, green chilies, and cheese evenly over the eggs.
Allow to cook 4-7 minutes or until a spatula can easily slide under eggs.
Gently slide spatula under eggs, and flip one half over, forming a half circle.
Allow to cook 3-4 more minutes and slide onto a serving plate.
Garnish with Queso Fresco, chopped tomatoes and cilantro.
**note: Due to the sodium content of the chorizo and Queso fresco salt has been refrained in this recipe. Salt may be added to taste.