Bourbon-Scented Chocolate Chip Cookies

Print Recipe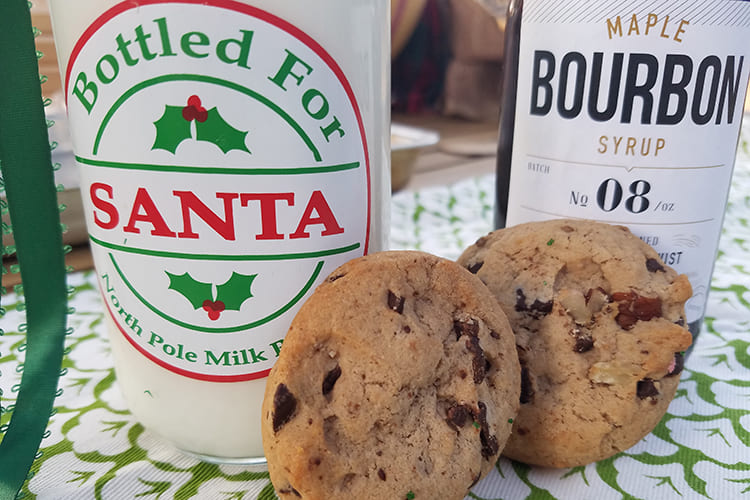 Pour a cold glass of milk, preheat the oven and wait for the intoxicating aroma of this American classic. I bet you can't wait for them to cool properly.
The Toll House Chocolate Chip Cookie formula is a recipe attributed to Ruth Wakefield, who ran the Toll House Inn in Whitman, Mass. Nestle, which had an agreement with Wakefield to print the recipe on the label of its semisweet chocolate bar, packaged the solid chocolate with a chopper for cutting it into smaller pieces. In 1939, the company introduced the chocolate bits, eliminating the need for a knife.
Familiar cookies such as these are welcome on holiday platters. But I like to give them a special touch by experimenting with extracts and other flavorings. Vanilla is just fine, but we are in the winter special occasion homestretch so let's dress things up a little. John Rivers of 4 Rivers Smokehouse has created a syrup that is infused with the smooth, oaky flavors of Kentucky bourbon. Straight bourbon with do just fine as well.
Bourbon-Scented Chocolate Chip Cookies
Yield: 4 dozen cookies
Ingredients:
2 1/4 cups all-purpose flour
1 teaspoon baking soda
1 teaspoon salt
1 cup butter, softened
3/4 cup granulated sugar
3/4 cup packed brown sugar
1 teaspoon bourbon or bourbon syrup
2 large eggs
2 cups semi-sweet chocolate morsels
1 cup chopped pecans
Directions:
Preheat oven to 375F.
Combine flour, baking soda and salt in small bowl. Beat butter, granulated sugar, brown sugar and vanilla extract in large mixer bowl until creamy. Add eggs, one at a time, beating well after each addition. Gradually beat in flour mixture. Stir in morsels and nuts. Drop by rounded tablespoon onto ungreased baking sheets.
Bake 9-11 minutes or until golden brown. Cool on baking sheets for 2 minutes; remove to wire racks to cool completely.
Baking tips
If the first batch goes flat on the baking pan, stir in a tablespoon, or so, of flour (for a more cake-like cookie) along with 1/4 teaspoon of baking soda (for puff up) into the dough.
For crispy cookies with a soft center, use 1/4 teaspoon baking powder and 1/4 teaspoon baking soda.
To get cookies to look and taste like store bought, use half butter and half solid shortening. Then freeze dough 1 hour before baking. This solidifies the fat, which will spread less while baking. Also, portion on to baking pans with a cookie scoop, this will create consistently round cookies.
If you like this...