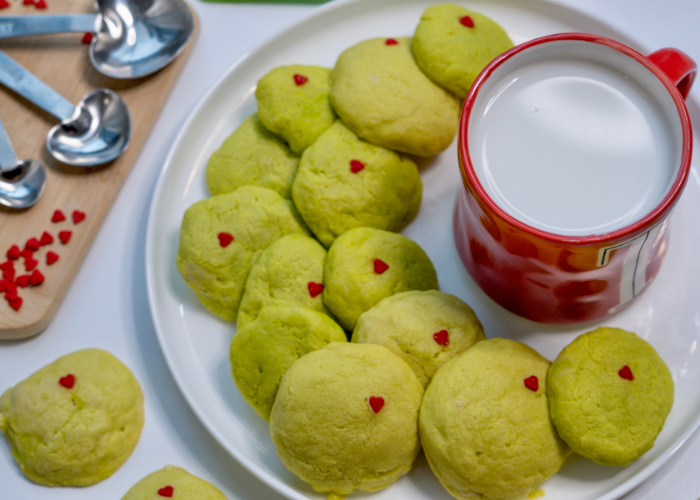 15

15

30

4

Print Recipe
Ingredients
1 cup milk
3/4 cup butter
2 tablespoons & 2 teaspoons powdered sugar
1 1/2 cup all-purpose flour
1 1/2 teaspoons baking powder
A pinch of salt
Preparation
Preheat oven to 325°F.
In a medium size mixing bowl, combine milk, butter, powdered sugar, all-purpose flour, baking powder, and salt.
Once all combined, add 2 drops at a time of green food coloring and combine again.
Cove the bowl with Saran warp and pop it in the freezer to harden.
Take out your cookie sheet and add parchimanet paper at the bottom or cover it with butter to ensure your cookies do not stick to the baking tray.
Once the cookie dough is hardened, scoop it onto the tray, leaving an inch or two between the cookies.
Add a tiny red heart sprinkle to each cookie.
Bake chilled cookie dough balls in preheated oven for about 15 minutes
Cool for 5 minutes, pour yourself a glass of milk, and enjoy!
Notes:
Make sure you use neon green and not regular green for the food coloring. The neon creates the perfect Grinch color.