Hot Cocoa Marshmallow Cookie Cups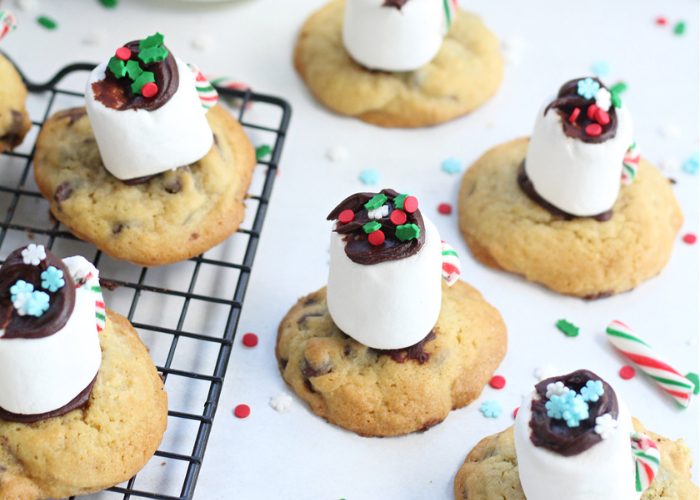 20

10

30

24

Print Recipe
Ingredients
Peppermint Chocolate Chip Cookie
2 ¼ cups flour
1 tsp baking soda
2 sticks softened butter
¾ cup sugar
¾ cup brown sugar
1 tsp vanilla extract
1 tsp peppermint extract
1 tbsp Florida Milk - I used 2%
2 eggs
2 cups chocolate chips

Chocolate Peppermint Frosting
2 tbsp butter
1/3 cup cocoa powder
1 1/3 cup powdered sugar
1 tsp vanilla extract
1 tsp peppermint extract
2 tbsp Florida milk - more if needed
Hot Cocoa Marshmallow Cookie Cups Toppings
Jumbo marshmallows
Mini candy canes
Holiday sprinkles
Preparation
Peppermint Chocolate Chip Cookie
Preheat the oven to 375 degrees.
In a large mixing bowl, combine butter, sugar, brown sugar, baking soda, milk, vanilla and peppermint extract using mixer.
Beat in the eggs one at a time.
Slowly add the flour 1/4 a cup at time.
Mix in the chocolate chips.
Prepare baking sheets with cooking spray or parchment paper.
Make small cookie dough balls, approximately 1 inch.
Place the cookie dough balls onto the baking sheet and bake for 10-12 minutes or until golden brown. Allow the cookies to cool completely before decorating.
Chocolate Peppermint Frosting
In a medium saucepan, melt the butter on low.
Add the cocoa powder and stir well.
Allow to cool slightly.
Add the milk, extracts and powdered sugar.
Stir well.
Hot Cocoa Marshmallow Cookie Cups Assembly Instructions:
Break your mini candy canes into smaller pieces and squeeze then into the side of the marshmallow. If you are having a hard time getting it to stay, push it in further or use vanilla/white frosting to get it to stay. We were able to just push it in further.
Once the frosting is cool, put it into a ziploc bag and push it to a corner, then clip the tip of the corner. This will make it easier to use the frosting.
Once the cookies are cooled, pipe a small amount of frosting onto each cookie.
Place a marshmallow on top of the frosting.
Pipe a small amount of frosting onto the top of the marshmallow.
Add sprinkles to the top of the frosting on the marshmallow.
Serve your Hot Cocoa Marshmallow Cups with a cold glass of Florida Milk...and be sure to save some for Santa!