Print Recipe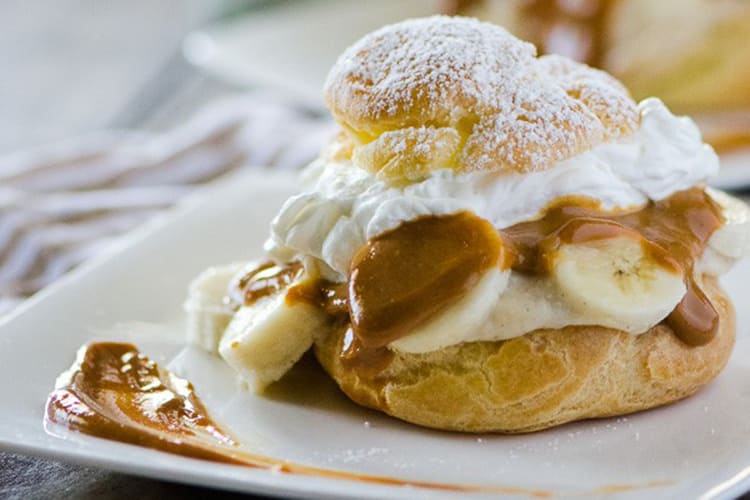 INGREDIENTS
Toffee
1 can sweetened condensed milk (or dulce de leche)
Cream Puffs (pate a choux)
1/2 cup unsalted butter, chopped
1 cup water, plus 1 Tablespoon water, separated
1 teaspoon granulated sugar
1/2 teaspoon kosher salt
1 cup all-purpose flour
5 eggs
Vanilla Pastry Cream
1/2 cup granulated sugar
1/4 cup cornstarch
1/2 teaspoon kosher salt
3 cups whole milk
2 eggs, beaten
2 Tablespoons unsalted butter
2 teaspoons vanilla bean paste (or 1 Tablespoon vanilla extract)
Sweet Whipped Cream
1 cup heavy whipping cream
3 Tablespoons powdered sugar
1 teaspoon vanilla extract
2 medium-large bananas, sliced
INSTRUCTIONS
For the Toffee:
In a sauce pan, boil an unopened can of sweetened condensed milk for 3 hours. Monitor the water closely, making sure there is always water in the pan. Remove can from heat and let cool for 10 to 15 minutes before use. (Or skip all this and just warm up a can of dulce de leche before assembly - saves time and is just as tasty!)
For the Cream Puffs (pate a choux):
Preheat oven to 375 degrees. Line two baking sheets with parchment paper.
In a medium saucepan over medium-high heat, combine butter, 1 cup water, sugar, and salt Bring to a boil, then stir in the flour quickly with a wooden spoon. The mixture will thicken to a ball of soft dough. Continue to stir until a film forms on the bottom of the pan.
Remove the dough from the heat, transfer to a bowl, and to cool 3-4 minutes. Add 4 eggs, one at a time, stirring vigorously to incorporate each addition.
Whisk together the remaining egg with 1 tablespoon water. Set aside.
Transfer the pate a choux to a pastry bag, then cut it open about 1/2-inch . Pipe 3-inch rounds onto each prepared pan, smoothing any pointed peaks with a moistened finger. Brush tops with egg wash, then bake 35-40 minutes until puffs rise and are golden brown.
For the Vanilla Pastry Cream:
Whisk together sugar, cornstarch, and salt in a medium saucepan over medium heat. Whisk in milk and bring to a simmer. Continue to cook until it thickens and comes to a boil; boil for 1 minute, then remove from heat.
Add 4-5 Tablespoons of hot milk to a bowl with beaten eggs, whisking quickly to keep from scrambling. Once evenly mixed, add egg mixture to milk mixture and return to heat. Bring it to a low boil, stirring constantly. Remove from heat, then stir in butter and vanilla.
Recipe created by Erica from The Crumby Cupcake
If you like this...