4th of July Ice Cream Sandwiches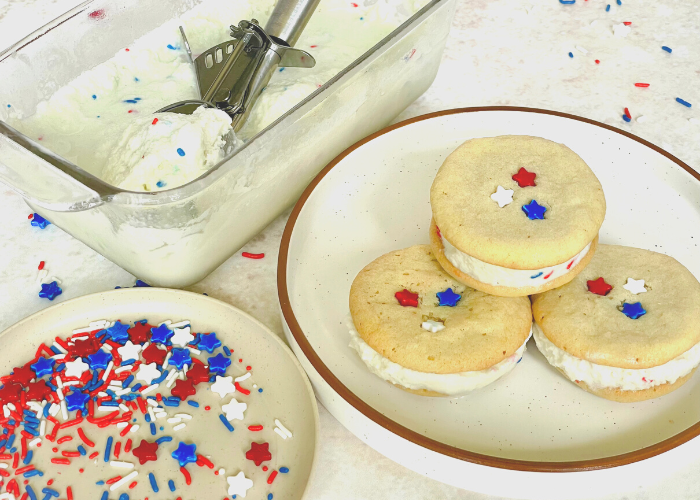 15

0

15

4

Print Recipe
Ingredients
2 gallon Ziplock bags
1 cup milk
1 cup half and half
1/3 cup sugar
1 tsp vanilla
8 cups of ice
2/3 cup rock salt
Red, White, and Blue Sprinkles
8 sugar cookies
Preparation
In one of the gallon-sized Ziplock bags add the ice and rock salt.
In the other gallon-sized Ziplock bag, add the milk and half and half.
Add the sugar to the same Ziplock bag, seal the bag, and shake.
After shaking, add the vanilla and sprinkles into the bag. Seal and shake again.
Make sure the bag is completely sealed. Place this bag into the Ziplock bag containing the ice and rock salt. Seal the ice bag.
Shake for roughly 10 minutes or until the ice cream bag has a frozen/creamy consistency. If necessary, place Ziplock bags into the freezer for about 30-45 minutes to ensure the ice cream is frozen.
Once the ice cream is done, get two sugar cookies. Place a scoop of ice cream on one cookie and place another cookie on top to create an ice cream sandwich. Garnish with more sprinkles if desired.
Happy 4th of July!