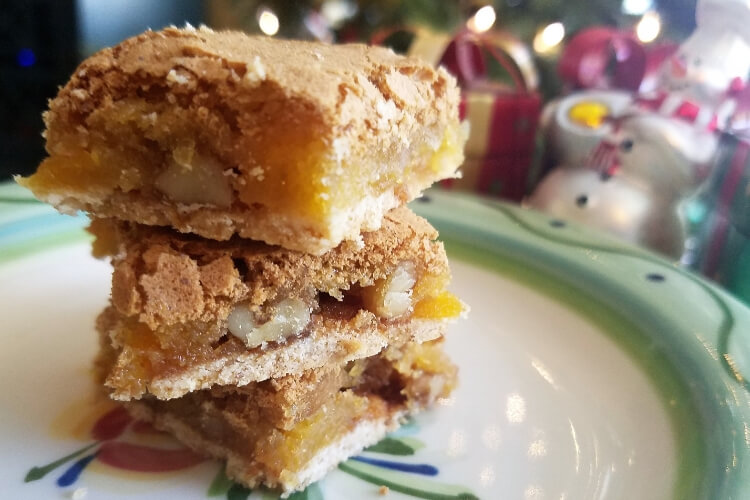 Print Recipe
Ingredients
Preparation
I saved the best for last in this holiday series of 12 great bars that go great with tall glass of cold milk: Apricot Bars. I first made these in Mrs. Pert's Home Economics class in grade school in Indianapolis. You can dust them with powdered sugar if desired, but it's really not needed. The top has a wonderful, light crackle and the insides are soft and sweet. These are my favorite non-chocolate dessert ever and a must for the holidays.
Apricot Bars
Ingredients:
1 1/3 cups (6-ounce package) dried apricots
1/2 cup salted butter
1/2 cup granulated sugar
2 1/2 cup baking mix, such a Bisquick or Jiffy
2 cups packed brown sugar
4 large eggs, beaten
2/3 cup baking mix, such a Bisquick or Jiffy
1 teaspoon spiced rum
1 cup chopped walnut
Powdered sugar (optional)
Directions:
Place apricots in 2 quart saucepan. Add enough water to cover. Heat to boiling; reduce heat. Simmer 10 minutes, uncovered. Drain. Cool completely. Chop and reserve. (Using kitchen shears makes this step a breeze.)
Heat oven to 350F. Line a 15 1/2-by-10 1/2-by 1-inch baking pan lengthwise with nonstick aluminum foil, letting just a bit hang over the edges.
Mix butter and granulated sugar and 2 1/2 cups of baking mix until crumbly. A pastry blender or two knives are tried and true tools for this. But I have found carefully pulses in the work bowl of a food processor work just as well. Pour into the foil-lined baking pan, patting down evenly over the bottom. Bake 10 minutes.
Beat brown sugar and eggs. Stir in apricots, 2/3 cup baking mix, rum and nuts. Spread over baked layer. Bake 30 minutes. Remove pan to a wire rack and cool completely.
Using the foil handles, lift the bars from the baking pan and place on a cutting board. Carefully remove foil and cut into bars.
Nutritional Information



DAILY VALUE
Total Fat

g

Saturated Fat

mg

Cholesterol

g

Carbohydrates