Print Recipe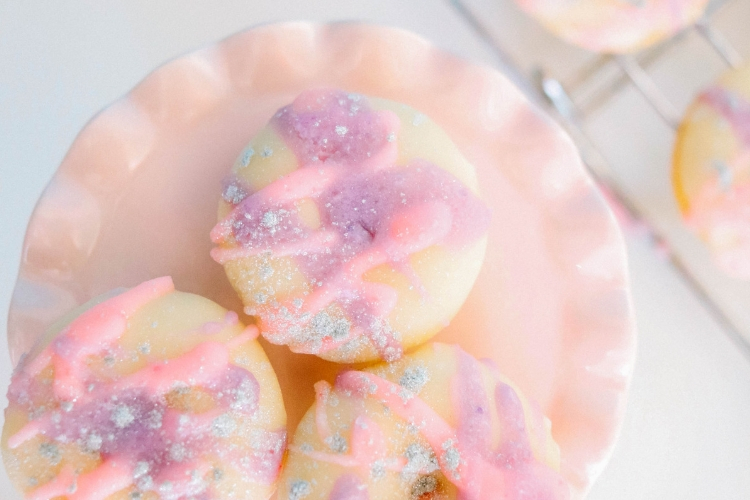 Recipe by Bianca Dottin
Ingredients:
1 ½ cups all-purpose flour
¾ tsp baking powder
¼ tsp baking soda
¼ tsp salt
¼ tsp cinnamon
8 tbsp unsalted butter, softened
½ cup granulated sugar
½ tsp almond extract
¾ cup buttermilk
Instructions:
Preheat oven to 350 degrees.
In a mixing bowl, whisk together flour, baking powder, baking soda, salt, and nutmeg.
In the bowl of an electric stand mixer, whip together butter and sugar until pale and fluffy.
Mix in eggs one at a time.
Blend in vanilla and buttermilk.
Gradually add flour.
Scrape down sides to ensure that the batter is evenly combined.
Pour batter into a large piping bag.
Pipe batter into greased mini donut pan, filling about 2/3 full.
Bake for 7-9 minutes until toothpick inserted into donuts comes out clean.
Topping Ingredients:
white chocolate candy melts
food coloring (pink, purple)
silver pearl dust
Instructions:
Using the entire bag, follow instructions on the bowl to melt your candy melts in a large mixing bowl.
Divide the melted candy into 3 small bowls.
Pour the pink and purple food coloring into its own bowl and mix with the candy melts.
Dip the donuts into melted white chocolate.
Drizzle the purple and pink melted chocolate onto donuts in a streak pattern.
Sprinkle the silver pearl dust sparingly onto the donuts.
Serve and enjoy!
For more delicious recipes by Bianca visit her website.
If you like this...