Bourbon-Scented Chocolate Chip Cookies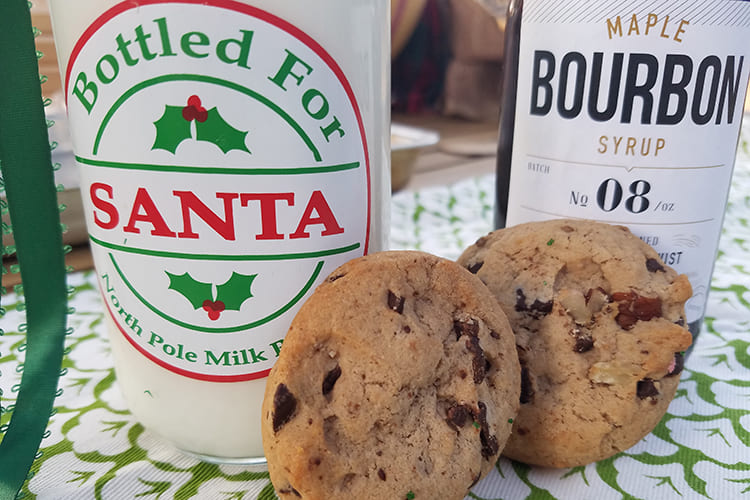 15

10

25

48

Print Recipe
Ingredients
2 1/4 cups all-purpose flour
1 teaspoon baking soda
1 teaspoon salt
1 cup butter, softened
3/4 cup granulated sugar
3/4 cup packed brown sugar
1 teaspoon bourbon or bourbon syrup
2 large eggs
2 cups semi-sweet chocolate morsels
1 cup chopped pecans
Preparation
Preheat oven to 375F.
Combine flour, baking soda, and salt in small bowl. Beat butter, granulated sugar, brown sugar, and vanilla extract in large mixer bowl until creamy. Add eggs, one at a time, beating well after each addition. Gradually beat in flour mixture. Stir in morsels and nuts. Drop by rounded tablespoon onto ungreased baking sheets.
Bake 9-11 minutes or until golden brown. Cool on baking sheets for 2 minutes; remove to wire racks to cool completely.
Baking tips
If the first batch goes flat on the baking pan, stir in a tablespoon, or so, of flour (for a more cake-like cookie) along with 1/4 teaspoon of baking soda (for puff up) into the dough.
For crispy cookies with a soft center, use 1/4 teaspoon baking powder and 1/4 teaspoon baking soda.
To get cookies to look and taste like store bought, use half butter and half solid shortening. Then freeze dough 1 hour before baking. This solidifies the fat, which will spread less while baking. Also, portion on to baking pans with a cookie scoop, this will create consistently round cookies.