Breadfruit and Cheese Flan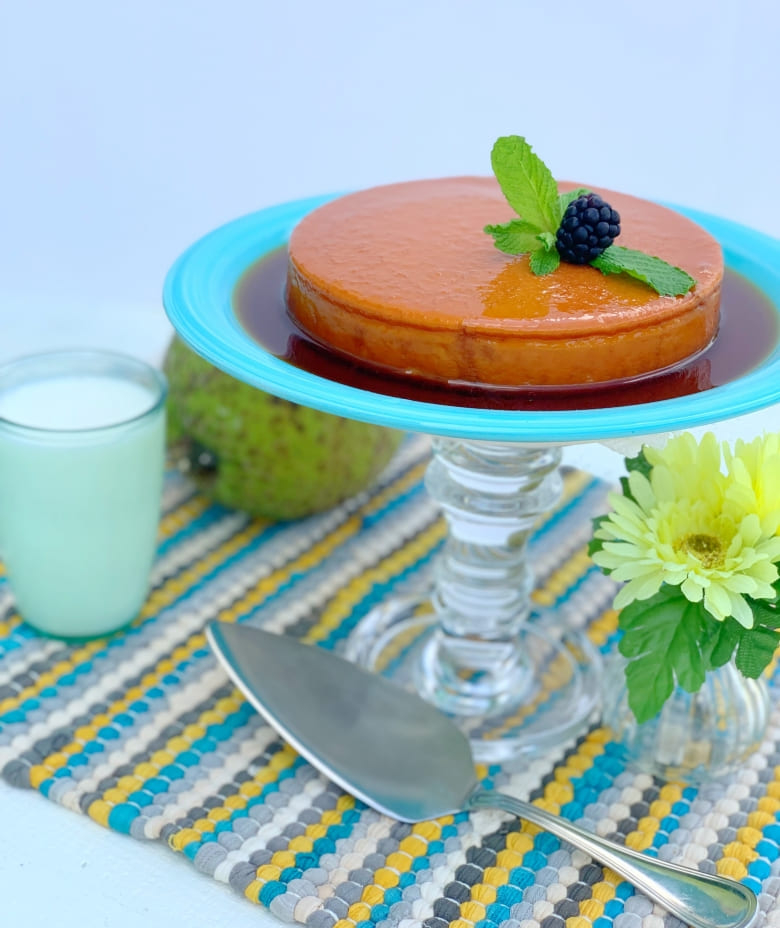 30

60

90

16
Breadfruit is a staple food in many tropical regions. Originating in New Guinea, the Maluku Islands, and the Philippines, its name is derived from the texture of a moderately ripe fruit when cooked, similar to freshly baked bread and with a potato flavor. Green/Immature breadfruit is cooked before consumption whether roasted, baked, fried, or boiled.

Print Recipe
Ingredients
1 can of condensed milk
1 can of evaporated milk
2 cups boiled breadfruit (mashed)
4 eggs
1 cream cheese bar (8 oz.)
1 teaspoon vanilla
¼ teaspoon salt
1 cup white sugar
2 tablespoons of water
1 lime
Mint
Blackberries
Preparation
Secure two 8" molds or one 9" x 13" glass pan and a larger container for Bain Marie.
Peel the breadfruit; remove the heart and cut into 2" pieces. Boil in salt water until fork tender for about 20 minutes. Drain, mash, and let cool.
Preheat oven to 350 ° F.
Boil 1 liter of water for Bain Marie.
Caramel: Mix sugar, half of the lime peel, and water in a small saucepan. Boil over medium-high heat, stirring until the sugar dissolves, about 3 minutes. Stop stirring and let the sugar continue cooking until it turns caramel color, about 6 - 10 minutes. Remove from heat and pour the hot caramel into the mold, covering the bottom and the sides carefully. Allow it to cool.
Flan Mix: In a blender, add eggs, cream cheese, breadfruit, evaporated milk, condensed milk, vanilla, and salt. Mix until all ingredients are incorporated for one to two minutes.
Bake: Pour mixture into the molds or mold. Pull the rack from the center of the oven halfway and place the largest mold for Bain Marie. Place your mold with the flan. Carefully pour the hot water until it reaches the middle of the flan mold. Gently slide the rack into the oven and bake about 45-60 minutes or until the flan has firmed or a knife comes out clean. Carefully remove the container from the oven and let the flan rest in the water bath for 5 minutes, then remove the flan from the water bath and wait for it to reach room temperature. Place it in the refrigerator until it is cold, several hours or overnight.
Serve: Let the flan rest at room temperature for 10 to 15 minutes. Dip the bottom of the mold briefly in a bowl of hot water to warm the caramel a little. Invert the flan in a dessert plate with sides. Slap the pan on the bottom to release the flan and carefully lift the mold. Caramel should flow through the surface of the flan. Decorate it with some mint leaves and blackberries. Keep it in the fridge.