Chocolate Candy Cane Brownies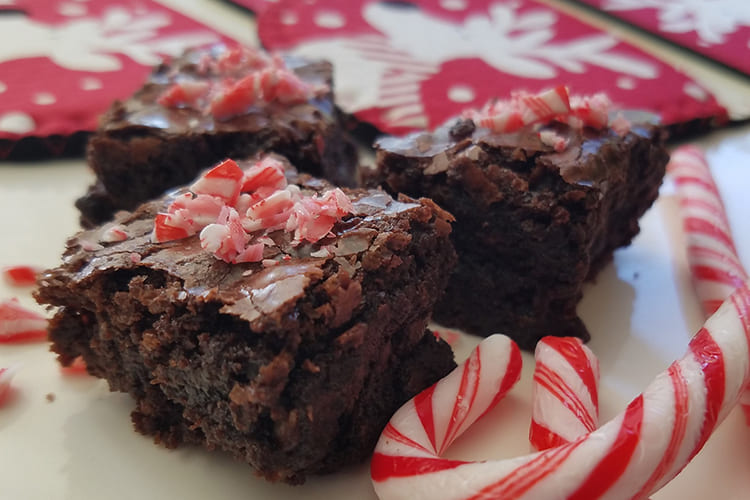 15

42

57

14
Chocolate Candy Cane Brownies are a fudgy, minty delight and the perfect foil for a glass of ice cold milk. Refrigerate in airtight containers layered between sheets of wax or parchment paper.

Print Recipe
Ingredients
Powdered baking cocoa for dusting baking pan
1 cup salted butter, cubed
6 ounces unsweetened chocolate, chopped
4 large eggs
2 cups granulated sugar
1 teaspoon pure vanilla extract
1/2 teaspoon salt
1 cup all-purpose flour
1/2 cup dark chocolate chips
1 cup crushed candy canes, divided
Preparation
Heat oven to 350F. Line bottom of a 9-by-9-inch pan with foil or parchment paper and let about an inch hang over the handles. This will make removing brownies easy. Lightly butter uncovered sides of pan and foil or parchment inside pan. Use a little bit of powdered baking cocoa to dust the pan, shaking out and excess.
In a small saucepan, melt butter and chopped unsweetened chocolate over low heat. Cool slightly.
In a mixer bowl, beat eggs, sugar, vanilla, and salt on low speed just until blended. Using a sturdy spatula, stir in the chocolate mixture. Add flour and chocolate chips, mixing well. Stir in 1/2 cup crushed candy canes.
Scrape batter into the prepared baking pan. Bake 35-40 minutes, or until a pick inserted near the center comes out mostly clean but with a few moist crumbs. When done, brownies will be fragrant and just beginning to pull away from the sides of the pan. Do not overbake.
Remove pan from oven. Let brownies cool in the pan on a wire rack for at least 1 hour.
Refrigerate 1-2 hours to chill. Using the foil or parchment "handles," lift the brownies from the pan and cut into desired number of bars on a cutting board. Sprinkle tops with the remaining crushed candy canes, pressing down slightly to embed in the tops.