Chocolate Mocha Ice Cream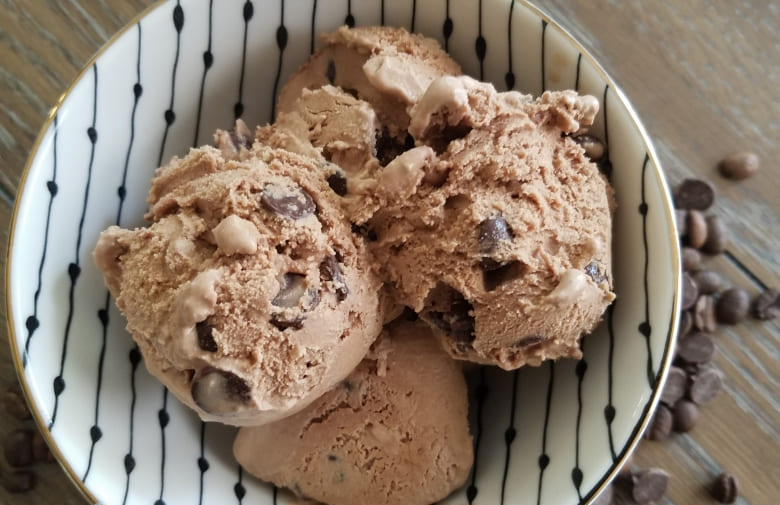 10

0

10

6
Ice cream is a year-round favorite, but summertime heat makes this icy, creamy treat even more enjoyable. Supermarkets are full of tubs, cartons, and boxes offering all kinds of flavors, but consider making your own ice cream.
These recipes are a great exercise for cooks of all ages. Let the younger chefs stir up the ingredients and adults can handle any cooking (for custard-based ice creams). And everyone can help with churning if you are still holding on to grandma's hand-operated ice cream maker.
Not all ice creams are the same though. Here's quick primer on what's what:
Traditional: Made with cream or milk, sugar, and can include eggs, stabilizers and flavorings such as vanilla, chocolate, and fruit. For a product to be labeled ice cream it must have at least 10 percent milk fat, according to the International Dairy Foods Association.
Custard: Also called French ice cream, the ultra-rich base starts with fluid milk, egg yolks or whole eggs, and sweeteners.
Ice milk: A softer version of ice cream made with less butterfat. Since 1994, manufacturers have been able to label ice milk products low-fat ice cream.
Sherbet: Sorbet's creamy cousin with milk added to the fruit-based mixture.
Gelato: A dense ice cream generally made with more milk than cream (making it lower in fat), egg yolks, sugar or other sweeteners and flavorings. Gelato has a more intense flavor than traditional ice cream and less air, according to the International Dairy Foods Association.
Of course, consumers can easily find special diet or preference options including lactose-free, gluten-free, and organic ice creams.
For today's recipe we went the ultra-easy route: A from-scratch ice cream made with fluid milk and cream that doesn't require the home cook to buy another appliance.
Recipe provided by Heather McPherson from Heather's Florida Kitchen.

Print Recipe
Ingredients
1 cup cold whole milk
1 cup half-and-half
2 cups cold whipping cream
3/4 cup super-fine sugar or to taste
1/2 teaspoon salt
2 tablespoons espresso powder
2 tablespoons cocoa powder
1 1/2 teaspoons pure vanilla extract
1 cup semi-sweet chocolate chips
Preparation
Freeze a glass 9-by-13-inch pan until frosty. Freeze the beaters of your electric mixer. Freeze a large glass mixing bowl.
Combine the ingredients in the chilled glass mixing bowl, stirring until the sugar is completely dissolved, about 3 minutes.
Pour mixture into the chilled 9-by-13-inch pan. Return pan to freezer uncovered. On low speed, whip the creamy mixture in the pan once every 4 hours. As you work the mixture will take on a soft serve consistency.
Serve or continue to whip and chill mixture until desired consistency is reached.
Test kitchen tips:
For easy entertaining, pre-scoop balls of ice cream onto a metal baking sheet and leave in the freezer until ready to serve.
Add interest to the table by serving ice cream in hollowed out oranges and garnish with a little bit of citrus zest. Slightly trim the bottoms so the orange halves will sit on the serving plate.
Create chocolate "bowls" by dipping balloons in melted coating chocolate. Place on parchment paper, when chocolate cools and hardens pop the balloons fill remaining vessels with scoops of ice cream.