Chocolate Peppermint Truffles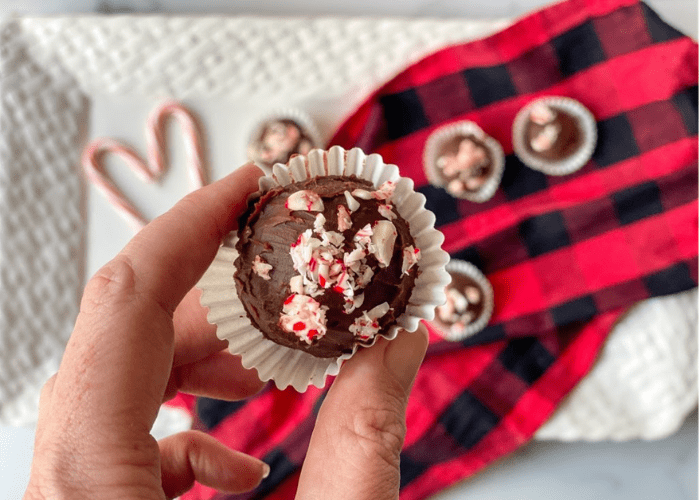 25+chilling

15

40+chilling

6

Print Recipe
Ingredients
For the Peppermint Chocolate Truffles:
½ cup heavy whipping cream

8 ounces semi-sweet chocolate finely chopped

3 Tablespoons unsalted butter cubes of butter at room temp

1/2 teaspoon peppermint extract
For the Chocolate Coating:
4 ounces semi-sweet chocolate chopped

2 full-size candy canes crushed
Preparation
Chop your chocolate into fine pieces. Over low heat, heat heavy whipping cream in a small saucepan. Once it comes to a boil, remove it from the heat and add in chopped chocolate. Let the chocolate and cream sit for 2 minutes. Then whisk until it's smooth. Then stir in butter and peppermint extract until it's shiny and fully combined.

Transfer the mixture into a medium bowl. Allow it to cool to room temperature. Cover the bowl and refrigerate for at least 2 hours or until firm enough to scoop.
Assembly without dipping
Use a cookie scooper to scoop out the truffle mixture and place into a mini cupcake liner.

Top with candy canes.

Allow truffles to sit at room temperature until set, about 1 hour.
Optional Chocolate Coating
Use a cookie scooper to scoop out the truffle mixture and place onto parchment paper.

Melt the chocolate. You can melt it in the microwave or over the stove top using a double boiler. Stir occasionally with a silicone spatula. Right before dipping, pour the melted chocolate into a liquid measuring cup.

Remove the truffles from the refrigerator and dip them into the melted chocolate. Then sprinkle with crushed candy canes.