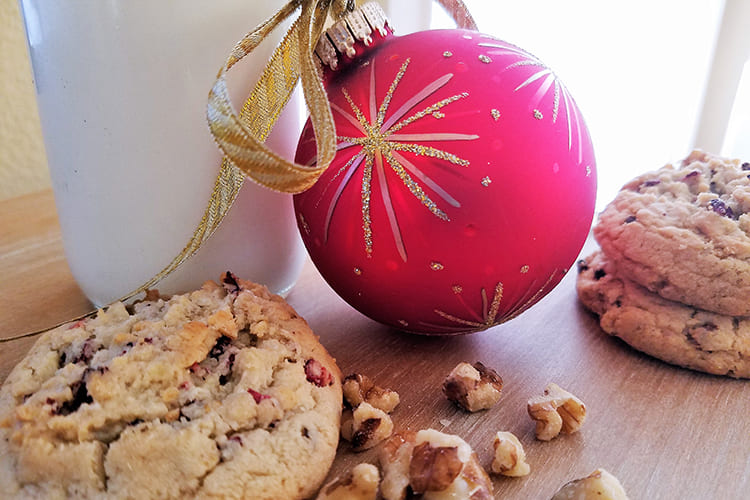 Varies

Varies

Varies

Varies

Print Recipe
Ingredients
Cranberry Walnut Cookies
3/4 cup butter flavor all-vegetable shortening
3/4 cup granulated sugar
3/4 cup firmly-packed brown sugar
2 large eggs
2 teaspoons pure vanilla extract
1 cup all-purpose flour
1 teaspoon baking soda
1 teaspoon ground cinnamon
1/4 teaspoon salt
2 3/4 cups old-fashioned rolled oats
1 cup minced dried cranberries
1 cup chopped walnuts
Walnut Cranberry Cookies:
1 1/2 cups old-fashioned rolled oats
1 1/3 cups unbleached all-purpose flour
1/2 teaspoon finely ground sea salt
3/4 cup packed light-brown sugar
8 tablespoons unsalted butter
6 tablespoons maple syrup
1 teaspoon baking soda
2 tablespoons boiling water
1 teaspoon pure vanilla extract
1 cup walnut pieces, toasted and chopped
1 cup dried cranberries
Preparation
Cranberry Walnut Cookies
Heat oven to 350F. Line baking sheets with parchment paper.
With mixer, beat shortening, granulated sugar, and brown sugar until blended and creamy in texture. Beat in eggs and vanilla. Combine flour, baking soda, cinnamon, and salt in small bowl. Mix dry ingredients with whisk to evenly distribute ingredients. In batches, mix dry ingredients into shortening mixture until smooth. Stir in oats, cranberries, and nuts. Drop by rounded tablespoons about 2-inches apart on prepared baking sheets.
Bake 10-12 minutes or until light brown. Cool on baking sheets 2 minutes. Place on cooling rack to cool completely.
Walnut Cranberry Cookies:
Preheat oven to 300F. Line 3 baking sheets with parchment paper.
Combine oatmeal, flour, salt, and sugar. Whisk to evenly distribute ingredients.
In a saucepan on medium heat, melt the butter and cook until it turns golden brown, 5-7 minutes; remove from heat, stir in maple syrup and extract.
Dissolve baking soda in boiling water. Stir into browned butter mixture. Add the wet ingredients to the dry ingredients, stirring until only a few streaks of flour remain. Fold in nuts and cranberries.
Using a small dough scoop, place dough about 1 to 2 inches apart on baking pans. Flatten each of the balls slightly. Bake until golden brown and set, about 20 minutes, rotating halfway through. Transfer to rack to cool. Store in an airtight container up to 1 week.
Baking tips
Tools that operate like ice cream scoops are the key to a nice round shapes for cookies. The come in several sizes. In addition, the scoops use dough efficiently and uniformly, keep yields consistent.
If cookies are too tough, try substituting pastry flour for the all-purpose flour. Pastry flour has less protein, so it develops less gluten when worked.
To toast walnuts, preheat oven to 350F. Arrange whole walnuts on a cookie sheet in a single layer. Bake 8 to 10 minutes, checking frequently. Cool completely. Chop as needed for recipes.