Creamy Chocolate Mint Chiffon Pie

Print Recipe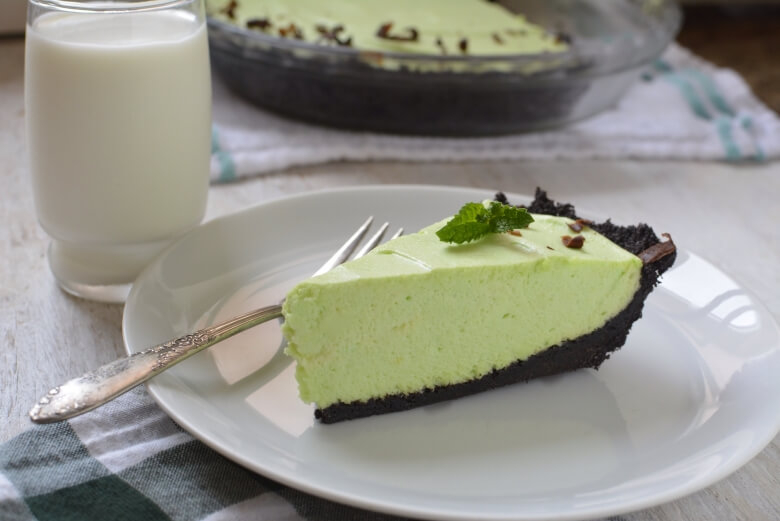 Ingredients:
1 chocolate crumb crust (recipe follows)
3 eggs' separated
1 envelope unflavored gelatin
1/4 cup water
1/2 cup granulated sugar, plus an additional 7 tablespoons
1/2 teaspoon salt
1 cup whole milk
1 cup heavy cream
4-6 drops peppermint oil
4-8 drops green coloring
chocolate curls and mint leaves for garnish
For the crust:
1 3/4 cups chocolate wafer crumbs
6 TBS butter (melted)
1/4 tsp salt
1/2 tsp vanilla
1/4 cup granulated sugar
Directions:
Preheat oven to 350
Combine the crumbs with the other ingredients in a bowl, press into a 9"pie pan - starting in the center and working up the sides
Bake for 10-12 minutes
Directions for the pie:
In a small saucepan over low heat dissolve the gelatin in the water until completely dissolved, set aside.
In a mixer, beat the egg yolks and sugar until pale yellow. Set aside.
In a medium saucepan, over medium high heat combine the milk, 7 tablespoons of sugar, and the salt.
Bring to just under a boil, stirring often, remove from heat.
Slowly beat in 1/2 cup of the hot milk mixture into the egg yolk mixture to temper the yolks.
Add the gelatin and remaining yolks to the mixture and return to medium heat.
Continue to cook until mixture thickens.
Place mixture in the refrigerator and stir occasionally until mixture has thickened to pudding constancy.
Once the yolk mixture reaches proper consistency, In a separate bowl, begin to beat egg whites until stiff peaks form.
In a separate bowl, beat the cream until fluffy and stiff peaks are formed.
Gently fold the two mixtures together, adding the peppermint oil and the green coloring.
Spoon into piecrust and refrigerate 3-4 hours before slicing.
Garnish with peppermint leaves and chocolate curls.
Serves: 12
If you like this...