Crushed Berry Cornmeal Cake with Lemon Zest and Honey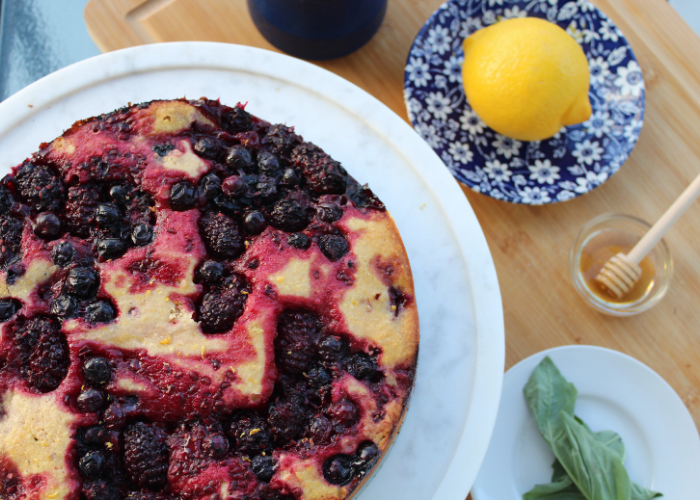 10

45

55

8

Print Recipe
Ingredients
1 stick unsalted butter, melted, for greasing the pan and for serving (optional)
1-pint Blackberries
12 oz. Blueberries
1/3 cup plus 2 TBSP granulated sugar
1 cup all-purpose flour
1/2 cup medium-grind yellow cornmeal
1/2 cup Masa Harina
2 teaspoons baking powder
1/4 cup light brown sugar
1 teaspoon kosher salt
2 large eggs
1/2 cup FL buttermilk
1/4 cup canola oil
Good-quality Florida honey
1 tablespoon fresh Lemon zest
Fresh basil leaves (optional)
Preparation
Preheat oven to 350 degrees Fahrenheit. Lightly grease round cake/pie pan with softened butter.
Place berries in a bowl and lightly crush berries in 2 tablespoons of granulated sugar. Mix until the juices are moderately combined and set aside.
Whisk the flour, cornmeal, Masa Harina, baking powder, brown sugar, kosher salt, and remaining 1/3 cup of granulated sugar in a bowl.
Whisk the eggs and Florida buttermilk together in another medium bowl. Blend into the dry ingredients until just barely combined, and add the melted butter and oil, whisking until no dry spots remain. Gently add half the berries and fold them into the batter-mixture.
Pour batter into the prepared pan and top with remaining crushed blackberry and blueberry mix. Bake until the edges of the cake develop a crisp golden brown color along the edges. Bake for 45-50 minutes.
Let cool for a couple of minutes and drizzle with honey + grate fresh lemon zest all over the top of the cake. In terms of how much lemon zest... Really, it's however much you want to pack the fresh punch! Is there really ever enough zest? To quote Mean Girls: The limit does not exist.
If I'm feeling particularly spicy, I will chop some fresh local basil and sprinkle sparingly with my warmed cake for an extra taste of spring.
Serve with a glass of fresh, Florida milk and enjoy!